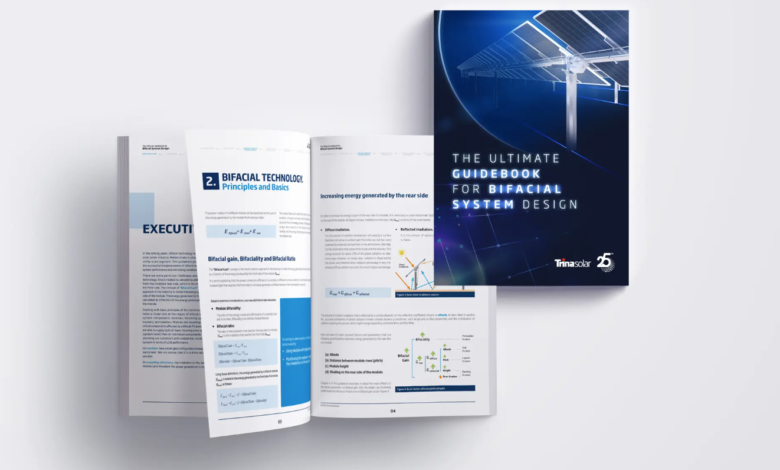 How to optimize the design of bifacial photovoltaic systems in Europe
(Sustainabilityenvironment.com) – Bifacial photovoltaic systems are gradually making their way into the solar market. But their design still presents some challenges. Unlike classic technology, for the "double-sided" power and efficiency are more complex to model and calculate. In fact, the performance of the rear side of the modules and the factors that influence them, such as the reflectivity of the ground or the mounting structure, must also be taken into account.
To optimize the design and provide a useful resource to developers, EPC companies, investors, public services and IPP, Trina Solar Europe has published these days "The Ultimate Guidebook for Bifaceal System Design".
The guide, downloadable free of charge from the company's website, provides the know-how of Trina Solar to facilitate the construction of bifacial photovoltaic systems. The paper shows how to incorporate new factors into the design with indications for maximizing the efficiency of modules and keeping the level cost of electricity to a minimum. It also carefully examines the cost and performance role of seconds such as inverter configuration, component assembly, and intelligent tracking technology.
To obtain useful information, the company has conducted two case studies on its own double-sided photovoltaic systems, with trackers and fixed structures and in real working conditions. The first was made in Spain and evaluated which system was most effective in climates with high amounts of solar radiation such as those of southern Europe. The second, in Germany, analyzed the performance of the technology in areas with less solar radiation, such as Central Europe.
Economic factors such as internal rate of return (IRR), capital expenditure (CAPEX) and operational expenditure (OPEX) were also taken into account. "The complete results are presented in the guide – the company explains – and are extremely useful for companies considering which two-sided module solution would work best for their application, environment and budget".
La guida è scaricabile gratuitamente su https://bit.ly/3DccO0l .