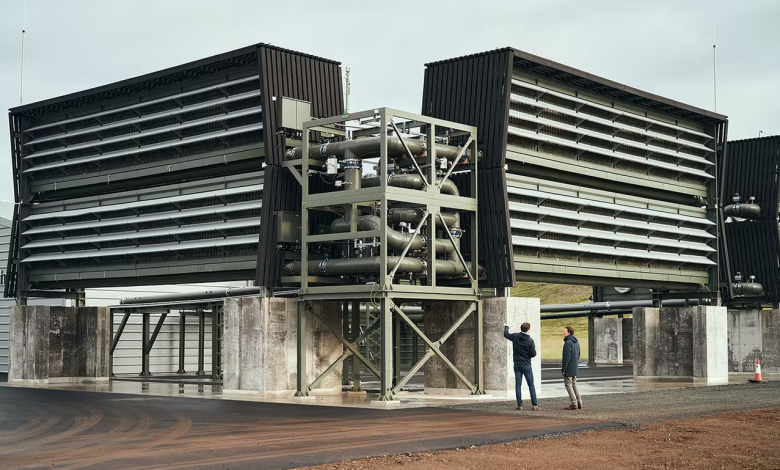 Icelandic carbon capture plant will remove 4,000 tons of CO2 dioxide per year
(Sustainabilityenvironment.com) – Orca, the largest carbon capture system based on Direct Air Capture (DAC) came into operation in September last year. This technology of carbon sequestration was once considered the last alternative against the climate crisis. Today it has a more or less defined space in many decarbonization strategies. After the first small-scale experiments, they entered the international market with commercially convincing projects. This is demonstrated by the carbon capture plant Orca. Climeworks had begun building the facility in May 2020, near the Hellisheiði geothermal power plant in Iceland.
The geographic location is anything but random. To fuel the sequestration of carbon dioxide will be exclusively the energy of the subsoil.
The project aims to demonstrate the effectiveness and replicability of Climeworks technology as a tool to reduce greenhouse gas emissions. The approach is therefore modular and advanced by creating compact but powerful stackable collection units. This allowed Orca to be operational in less than 15 months.
The Direct Air Capture of carbon dioxide
Like all DAC systems, the carbon capture system does not need the dense exhaust fumes of thermal power plants to work. It can remove carbon dioxide directly from the air, thus operating at much lower concentrations. Direct Air Capture (DAC) technology replicates exactly what plants do, but much faster. It sucks in air, extracts carbon dioxide through some chemical reactions and returns the rest to the environment. At full capacity the Icelandic structure will remove about 4,000 tons of atmospheric CO per year, storing them permanently through the natural mineralization process Carbfix.
"Orca – the society explains – as a milestone in the direct air capture industry, has provided a scalable, flexible and replicable blueprint for Climeworks' future expansion", underlines Jan Wurzbacher, co-ceo and co-founder of the company. "With this success, we are prepared to rapidly ramp up our capacity in the next years". "Achieving global net-zero emissions is still a long way to go, but with Orca, we believe that Climeworks has taken one significant step closer to achieving that goal".