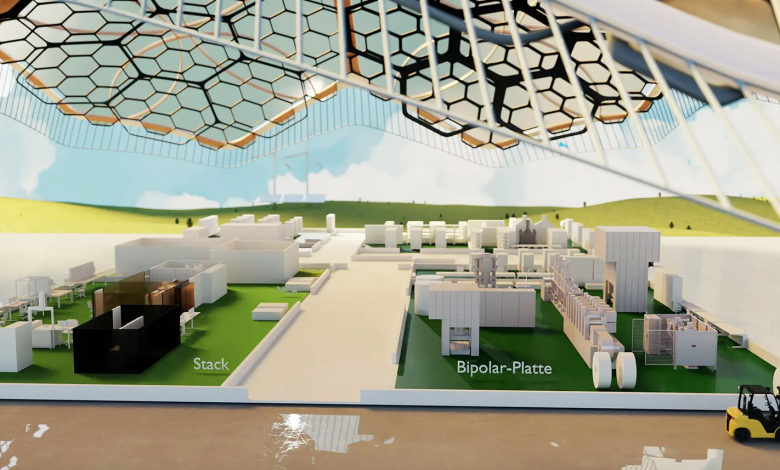 (Sustainabilityenvironment.com) – A "model" factory that allows bringing to the market efficient and affordable electrolyzers and fuel cells. A project born from the world of research but that flows into industry. Let's talk about Reference-factory.H2, the structure for the production of hydrogen technologies designed by the Fraunhofer Institute for Machine Tools and Forming Technology IWU, in Germany.
The new green hydrogen economy, which is gaining ground in Europe (and beyond), must be able to count on a wide range of systems for the production and use of the carrier. At present, however, electrolyzers and fuel cells are still manufactured in small quantities, at high costs and making little use of automated processes.
Hybrid hydrogen production system accelerates transfer to industry
Reference-factory.H2 was born with the stated goal of bringing the production of these technologies into a new industrial era. The project will bring together the expertise and results of several Fraunhofer institutes. It will operate on two interconnected levels: physical and virtual. In detail, the structure has been designed for the "flexible, dynamically adaptable and scalable" series production of hydrogen systems, optimizing existing technologies and creating new ones.
At the same time, it will develop digital twin production elements incorporating them into a virtual architecture.
In this way, we will create a modular system to compare the different technologies and combine them with each other. All this directly involves industry companies.
Read also Started the Platform EU for the joint purchase of gas, hydrogen and GNL
"Reference-factory.H2 allows us to use regional expertise and infrastructures better so that industry can be more closely involved in development. This accelerates the transfer of the solutions to industry," says Dr. Ulrike Beyer, Head of the Hydrogen Task Force at Fraunhofer IWU and coordinator of the project. "We're basically building a B2B platform in which we merge the core areas of expertise of the Fraunhofer Institutes and the partners involved to create a highly effective value chain for hydrogen systems, thus providing potential stakeholders with a holistic overview of the economic opportunities"
.