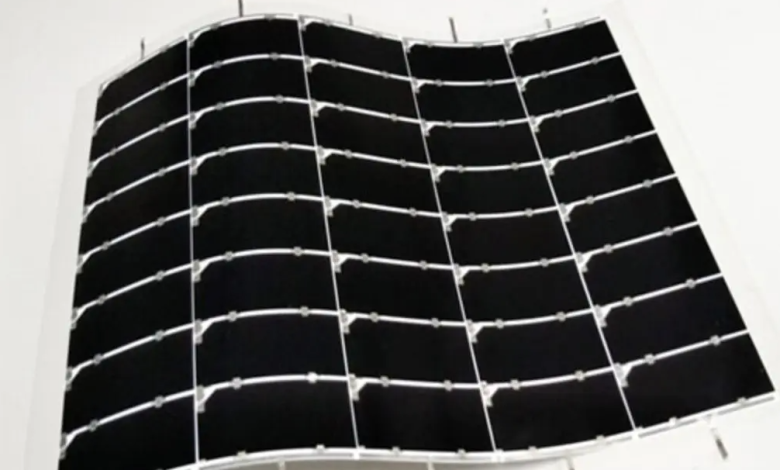 Lightweight and flexible photovoltaic modules to be incorporated into cars
(Sustainabilityenvironmeny.com) – Flexible, practical and with record performance. These are the new lightweight photovoltaic modules created by Sharp Corporation that, these days, let us know that they have achieved an exceptional result. Combining three very thin layers of photoabsorption and Thanks to an ad hoc design, the product is able to convert 32.65% of the incident light into electricity. This is the highest value in the world for this solar PV category and although they are still only in the prototype phase, the modules already have practical dimensions for real use.
The result, explains the Japanese company, was achieved as part of the project "Research and development of solar cells for use in vehicles", launched by the New Energy and Industrial Technology Development Organization (NEDO). The efficiency achieved exceeds that demonstrated to Sharp itself in 2016 (31.17%) – always within a NEDO project – and already then an industry record.
The new lightweight photovoltaic modules use a triple junction architecture, incorporating three thin solar films with indium gallium arsenide (InGaAs) as the bottom layer. The result is a flexible, efficient product with a weight of just 56 grams (0.58 kilograms per square meter).
All in all, the solar pv modules measure about 29 34 centimeters, which is sufficient in size to make the product commercially feasible, especially for the purpose of the project: integration at the vehicle level. "Sharp – said the company in a press release – will continue to conduct research and development on solar modules more efficient and low cost in view of their use in applications, including electric vehicles (EV) and aerospace. The project, which embodies a path towards achieving carbon neutrality by 2050, will help reduce greenhouse gas emissions from transportation". The new record efficiency was confirmed by the National Institute of Advanced Industrial Science and Technology of Japan.