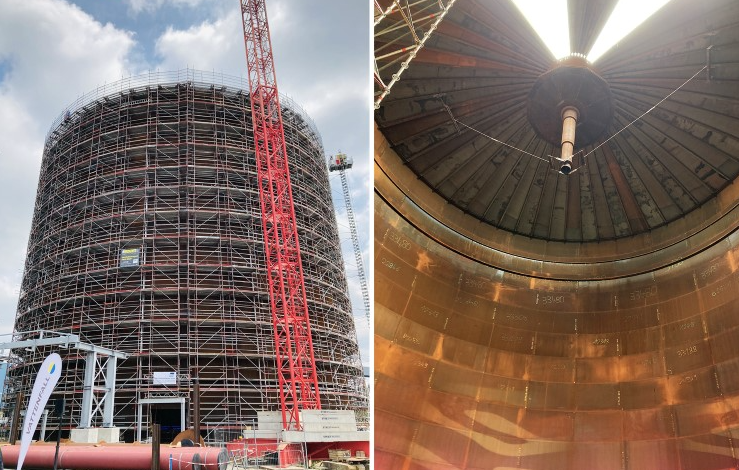 A "battery" for the P2H power station in Berlin
(Sustainabilityenvironment.com) – 45 meters high, 43 meters in diameter and 56 million liters of capacity. These are the numbers that characterize the maxi heat storage accumulator made in northwest Berlin by Vattenfall. The plant, which will come into operation next year, is located at the same site as the Reuter Westsul cogeneration plant and the largest Power-to-Heat system in Europe. And it is to the latter that the new storage project looks.
The Power-to-Heat plant has the task of transforming into thermal energy renewable electricity in excess of grid demand. The heat produced will heat the water contained in the tank up to 98 ºC. And in the colder months it will act as a "battery" to the district heating network managed by Vattenfall Wärme Berlin in the German capital.
Waste heat and renewable surplus for the German heat storage
The filling of the thermal energy storage started but the company's engineers had to solve some challenges first. In order to be used without problems in district heating networks, the water must be partially desalinated and degassed in order to reduce the wear of the pipes. In total the operation will last a couple of months and it is estimated that the foundations of the tank will drop by about 6 centimeters due to the high weight. Once the filling is complete, the company will initiate operational testing.
Read also Electricity from waste heat, is born 1 European plant to supercritical CO2
"The heat storage tank shows that the future of heat supply does not lie in individual solutions, but in thinking about overall systems," emphasizes Tanja Wielgoß, CEO of Vattenfall Wärme Berlin. "Because it ensures that the many small and large building blocks of the future Berlin heating system complement each other perfectly". Overall, the new storage system should boast a thermal output of 200 MW, with the ability to provide heat for 13 hours, even at very low temperatures. The company stated that the system is also suitable for integrating local waste heat sources, such as wastewater and thermal waste. "It is an important step in our path towards greater flexibility in the heat supply in Berlin," Wielgoß stressed. "Making it at the same time more climate-friendly, more independent and safer".