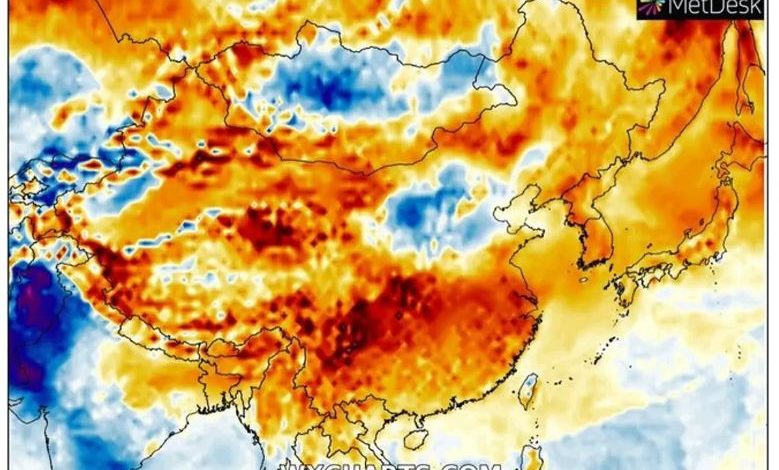 The heat wave should last another 10 days
(Sustainabilityenvironment.com) – After a first heat wave in late June, which had affected much of Asia, for a few days China is struggling with one of the worst extreme hot events in its history, with many broken records of heat.
On July 11, Yanjin County, in the southern and mountainous province of Yunnan, recorded 44 C, the new all-time record for the area. Absolute records of heat also for the neighboring counties of Yongshan (40.9 C) and Junlian (42.4 C) in Yunnan. The day before it had been the turn of Xunyang (Shaanxi province, in the center) with 43.2 C and Junlian (in Sichuan) with 41.4 C.
In Chongqing and Shanghai, the mercury column had never reached the 40ºC so early in the summer. And in the second city, the behavior of the heat wave clearly shows changes in extreme phenomena due to climate change. Since the systematic surveys began in 1873, in Shanghai the temperature has exceeded 40 degrees for only 15 days. The average of the highs, in July, does not reach 33 seasons C (considering the period 1991-2020).
Read also Extreme heat sets new records across the northern hemisphere
However, since July 5, thermometers have exceeded 40 ºC every day, proving that heat waves are becoming significantly more intense and frequent. The forecasts estimate that this heat wave continues on these values for about 10 days, showing persistence, especially in the central part of China.
Torrential rains could be added to the heat, as already happened around 20-25 June. This week, the Chinese National Climate Center predicted severe flooding and droughts for the rest of the summer, with more than 600 millimetres of rainfall expected in the south and temperatures regularly exceeding 35 ºC in much of northern China.
Last year, in mid-July, the province of Henan was hit by epochal floods, with levels of precipitation as seen once every 1000 years. In some areas, in 4 days fell all the rain that normally falls in 1 full year.