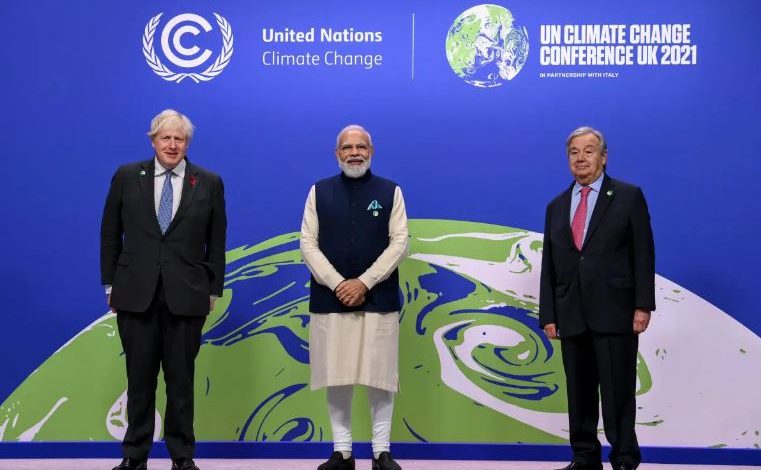 At COP26, Modi promised climate neutrality by 2070
(Sustainabilityenvironment.com) – When President Narendra Modi announced from the Glasgow stage that India would become net-zero by 2070, all of COP26 applauded. The commitment of the third largest polluter in the world (the fourth if you consider the EU as a single bloc) seemed to be able to put on the right track the negotiations on climate, until then miser of surprises. But after the announcement, New Delhi has not presented a concrete and detailed plan with which it plans to achieve climate neutrality. After months of silence, India has finally announced that the document will be officially filed in September, just in time for the COP27 in Sharm el-Sheikh.
Will it be enough to fill the gap and make the objective of climate neutrality credible by 2070? It depends very much on the yardstick you use. If you evaluate India's contribution to keeping global warming below 1.5 degrees, the document – the National Voluntary Contribution (NDC), in the terminology of the Paris Agreement – is likely to be "insufficient". This is how the Climate Action Tracker frames it, relying especially on the few details provided for climate action with a 2030 horizon from which the document should not deviate much. Among these, the reduction of the carbon intensity of the national economy by 45% compared to the level of 2005 and the absolute emissions of 1 GtCO2e by 2030. More than previously promised.
If, on the other hand, we consider consistency with the long-term objective, the great question mark is how many of the promised climate efforts will be conditioned by the arrival of financial aid from the industrialised countries. India's position on the transition, in fact, provides for massive external aid to accompany the country smoothly towards a more sustainable model. At COP26, Modi had quantified the support needed with monstre figures of $1 trillion by 2030 and $12 trillion by 2060. For comparison, to date, the richest countries pay just 100 billion per year for all countries most vulnerable to climate change.