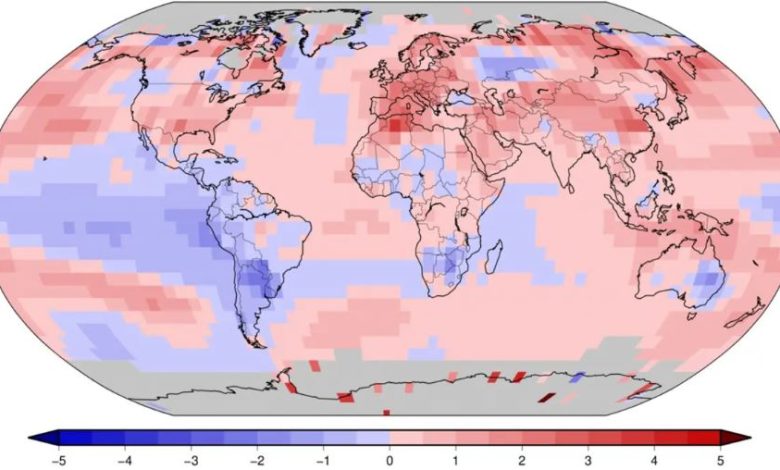 The entire northern hemisphere has come close to the global warming record of 2021
(Sustainabilityenvironment.com) – June 2022 is the 6th hottest ever with a thermal anomaly of +0.87°C globally compared to the average of the 20th century, but it remains very close to the boiling record of 2019: only 0.08°C separate them. It's the global warming estimate provided by Noaa, the National Oceanic and Atmospheric Administration, the American agency analogous to European Copernicus.
According to Noaa's time series, all of the 10 hottest months of June in history have been concentrated since 2010. And last month is also the 46th June in a row with a positive thermal anomaly. An interesting fact to consider concerns the absolute temperature records. They have been recorded in parts of China, the North Pacific Ocean, the West and the South East, and also in small areas of the Middle East and North Africa.
Ultimately, "about 7.68% of the planet's land and ocean surfaces recorded a record temperature in June. This is the highest percentage for the month of June since the beginning of the registrations in 1951, exceeding the previous record set in 2010 (7.37%)", emphasizes Noaa.
The American agency confirms the Copernicus measurements: for Europe it was the 2nd June warmest ever. The anomaly, calculated on the average of the period 1910-2000, is +2.5° C, while from the beginning of the year the global warming in the old continent is the +1.83°C, the 6 times higher given since the beginning of the surveys.
Among the records reported in Europe by Noaa are the 44 temperature records broken in Norway in as many locations. Among these is Tromso, the largest city north of the Arctic Circle, where thermometers reached 29.9 C for the first time, beating the previous record dating back to 1974.
The Northern Hemisphere, as a whole, recorded the fifth hottest June ever. But the terrestrial part of the northern hemisphere, known as Noaa, had a record-breaking June, with a temperature of +1.56 ºC, only 0.14 ºC below the record set last year.