Industry Spotlight
Poralu Marine gears up for a new worldwide
activity of waterfront development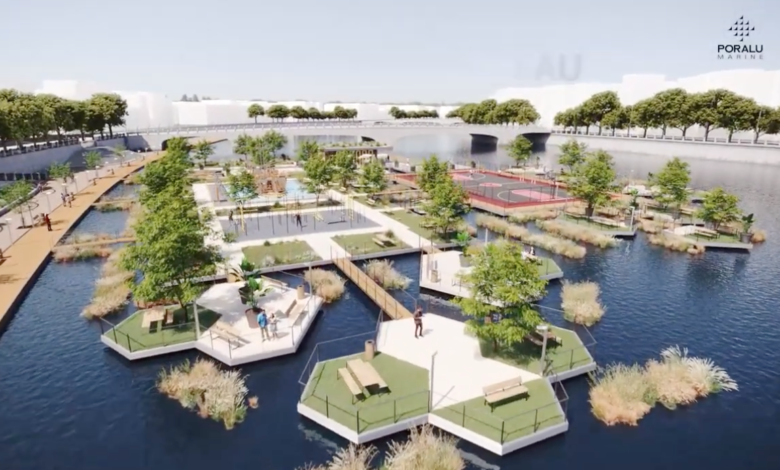 The Poralu Marine Group, a global leader in the design, construction, and installation of aluminium
marinas, is further diversifying its products and services with the creation of a new activity of
waterfront development.
The group is concerned about global warming and rising sea levels, and it is now launching an
innovative offer that looks to improve urban spaces and the well-being of residents and visitors by
building living spaces on the water. Designed to fit perfectly into their environment, these
infrastructure development projects aim to offer users leisure and relaxation spaces in urban areas.
With this new offer, Poralu Marine provides a response to the issue of land scarcity in France and
around the world, which is intended for all municipalities and large urban centres that have inland
bodies of water such as rivers, lakes and other waterways.
The group opens a new market dedicated to municipalities, architects and urban planners
This new activity centres around two offers. One of them is the creation and design of promenades
that connect the land to the water, and the other is the development of riverbanks and lakeshores
with leisure areas on the water. The two first offers will then go on to complement other areas of
expertise. Poralu Marine is thus entering new sectors of activity, like public works, infrastructure and
construction, which are also intended to help architects, urban planners and a new type of clientele
centred around urban areas and lakes. The Poralu Marine group now offers a complete, custom, comprehensive solution for players and stakeholders on land, thereby evolving from a specialist in marina development to a developer of on-water infrastructures. This change in its course is motivated by its desire to contribute to the change in lifestyles and to place individuals and environmental preservation at the centre of its development projects for municipalities. The company wishes to create genuine living spaces and new landscapes that benefit towns and cities and their inhabitants by carefully and respectfully developing the land. Plantings to expand vegetation growth, floating buildings and lighting solutions are just some of the many elements that make up thisrevolutionary concept.
Innovative solutions in a context of land scarcity and rising sea levels
Designed to be integrated into urban areas, these development projects respond to the issue of land
scarcity in France and around the world by providing additional liveable areas. Directed at improving
the well-being of their users, these on-water leisure areas offer an alternative solution that is
revolutionising urban development.
"With the creation of this new activity, our ambition is no longer to simply seek out port managers with
our solutions but rather to concentrate our development on urban areas and municipalities located
around inland bodies of water. We want to support these areas with the creation of innovative and
completely customised concepts. We create genuine living spaces dedicated to the well-being and
recreation of individuals so we can help design the cities and towns of the future. We are focused on
both the French and international markets with our first opportunities located in Canada, the U.S. and
in Europe," Quentin Bresson, activity director, said.
Connecting the land to the water, Poralu Marine's expertise for over 35 years
Marine and seashore areas as well as inland waterways have long been the spaces where Poralu
Marine has provided solutions for more than thirty-five years. Through its activities, which it
undertakes on every continent, the group has been aware for many years now of the direct impact
humans have on marine, port and lake areas. With its internationally recognised expertise, Poralu
Marine applies its innovation abilities to projects that help people live in harmony with their
ecosystems.
The installations incorporate recycled, recyclable or bio-based materials and are integrated into their
environment. Poralu Marine is recognised in particular for its expertise in the use of aluminium, taking
advantage of its anticorrosive, lightweight and infinitely recyclable characteristics.
The projects developed for this new on-water infrastructure activity respond to different needs, including leisure and recreation spaces and riverbank and shoreline development. The group has already designed, manufactured and installed several of these projects, as in the large nature parc of Bizard island in Canada and the installation of a promenade immersed in nature.