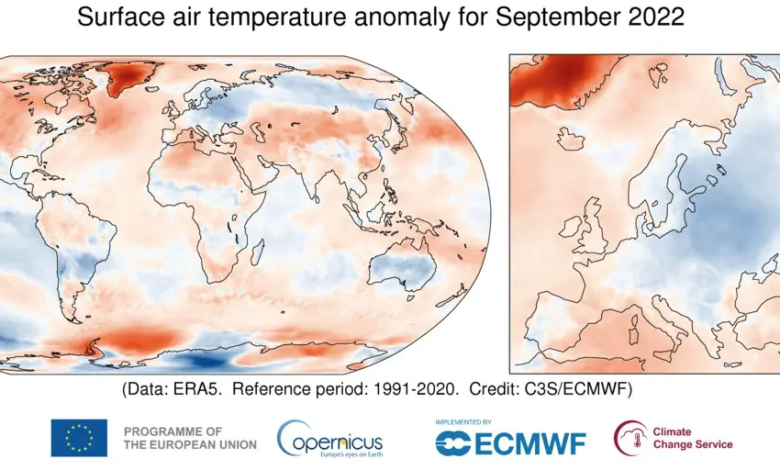 Copernicus global warming data as of September 2022
(sustainabilityenvironment.com) – In September, Greenland had an average temperature of 8 degrees above the norm of 1991-2020. Further confirmation, if needed, of the much more pronounced global warming trend in the Arctic than in the rest of the planet. This was detected by the European satellite monitoring system Copernicus.
The thermal anomaly affected practically the entire island, which formally belongs to Denmark. And it has broken all records since the time of the time series for the area, 1979. "This was associated with the prevailing winds that reached Greenland from the south and southwest, crossing regions that were mostly much warmer than average," Copernicus explains in a note.
In that area, temperature detection could have greater margins of error than elsewhere, the European system recognises. But the September 2022 figure seems quite reliable. Firstly, because "the uncertainties are small compared to the extent of exceeding average climatological temperatures in September 2022". Then, because data consistent with those of Copernicus come from other active monitoring systems.
"Further evidence of extreme conditions comes from the National Snow and Ice Data Center (NSIDC) of the United States, which reports a temperature above 0°C on the afternoon of September 3 from Summit Station, The first time observed in September since measurements began in 1989," notes Copernicus. The weather station is over 3000 meters above sea level and is the highest point in Greenland. "The persistence of relatively high temperatures throughout the month is evident from estimates of unusual amounts of ice melting throughout September reported by both the NSIDC and the Polar Portal of Denmark," concludes Copernicus.
Read also Seas taller than 27 cm, is now "inevitable" for the melting of the Greenland glaciers
In the rest of Europe, on the other hand, the summer of record heat gave way to a September of 0.37 °C colder than the average of the last 30 years. "This is largely due to a region of below-average temperatures stretching from Central Europe to Finland and Russia," the note specifies. To find another month of early autumn so cool you have to go back to 2013.
However, the mean value hides a still positive thermal anomaly for Western Europe. The reason? It is the effect of the wave of sea heat that has invested the central and western Mediterranean this summer, bringing some sectors of the Tyrrhenian and the Ligurian Sea to touch the 30°C a month in advance.