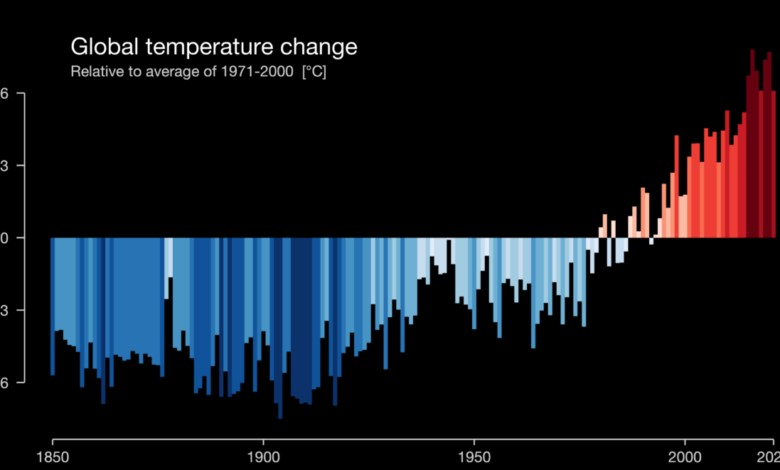 This year we go to +1.15 C global warming
(sustainabilityenvironment.com) – When only the December data are missing, the global average temperature of the Planet this year is about +1.15 degrees higher than that of the pre-industrial period, that is 1850-1900, with a range that goes from +1.02 to +1.28°C. So, it will be one of the hottest years in history. But 2023 will also be warmer, warns the Met Office. The UK National Meteorological Service expects global warming to reach even higher levels next year.
The main reason: it will end the 'refreshing' effect of La Niña, the phenomenon of atmospheric teleconnection off the Pacific coast of South America that has global repercussions on the climate. And in addition to encouraging floods and droughts in different areas of the Planet, it tends to slow global warming. Unlike its 'twin', El Niño, which alternates with it according to a natural cycle. It is precisely under the sign of El Niño that 2016 has become the hottest year in history (so far).
What is global warming? And what will be its effects in 2023
The Met Office forecast that over the next year, the global average temperature will be between 1.08 and 1.32 ºC warmer than the average of the second half of the 19th century. With a median value of +1.2 degrees. The global warming race, therefore, should bring the world to the 10th consecutive year in which the global thermal anomaly has exceeded the degree.
read also Global climate status 2022, climate change accelerates
"Next year, La Niña's natural and temporary braking effect will fade away," explains Richard Allan, professor of climate science at the University of Reading. The increase in temperatures will affect "warming over the next year and will continue in the future, along with tighter humidity, drought and heat extremes, until policies are put in place to achieve net zero greenhouse gas emissions".
However, 2023 should not reach the record of 2016, explain the British weather service. "Without an El Niño precedent to increase global temperature, 2023 may not be a record year," says Adam Scaife, head of the Met Office's long-term forecast. "But with the underlying increase in global greenhouse gas emissions continuing unabated, it is likely that next year will be another notable year in the series".