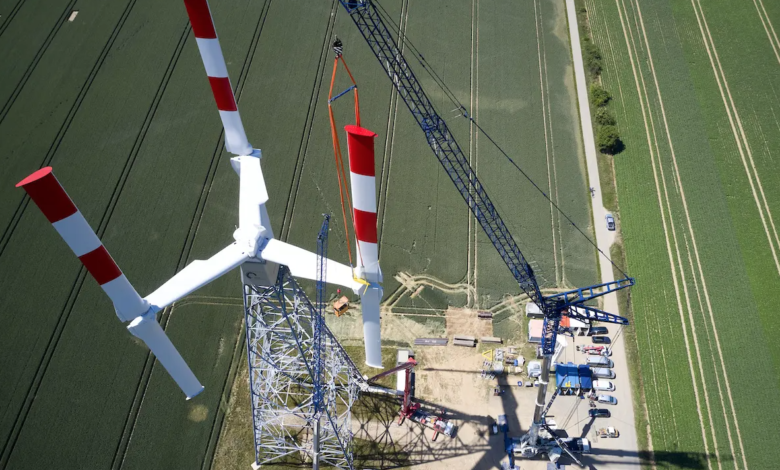 A quieter wind turbine to facilitate integration
The Vertical Sky® A32 is the vertical-axis wind turbine created by the Swiss Agile Wind Power to further reduce the impact of the industry on the environment. The Vertical Sky® is the largest wind turbine in the world. Compared to traditional aerogenerators with horizontal axis in fact, the new machine offers on paper some advantages at the level of integration on the territory. While promising equally competitive performance.
But above all, the Vertical Sky® A32 is one of the first large-scale VAWT for ground-based systems capable of meeting the international certification requirements for large-sized wind turbines (IEC 61400). A32. The unit measures 105 meters in height and 32 meters in diameter of the rotor, and is currently able to offer a capacity of 750 kW. "Only small vertical axis wind turbines have been built in the past. The rotor blades were fixed and had a high rotational speed," the company explains on its website. "Thanks to the possibility of a low rotational speed, the Vertical Sky. technology can instead guarantee low centrifugal forces and low stresses on the structure. Making possible, therefore, the megawatt class".
How do wind turbine work?
The technology patented by Agile Wind Power allows a continuous optimization of the position of the blades in real time, thanks to a machine learning algorithm. "Not only is this more efficient than current wind turbines of this type, but noise and mechanical load are also kept at a low level thanks to the reduced speed". By way of comparison the sound level produced by a modern turbine is typically between 96 and 101 dB, while that of Vertical Sky® A32 stops 85 dB.
Not only that. The VAWT generally also offer fewer constraints in terms of space occupied. The particular architecture allows, in fact, to install the various units in a more compact arrangement without the trails of the first disturb the following ones. "A survey conducted by SBB (Swiss Federal Railways) showed that the potential area to be used for wind power is four times greater with Vertical Sky. than traditional wind turbines," writes Agile Wind Power.
Since June 2022 a life-size prototype of the turbine is being tested at the test field in Grevenbroich, Germany. "Although the individual rotor blades were not optimally controlled at the time of the measurements, it was already possible to determine an efficiency of almost 41%. The value was obtained using a conservative estimate of the error". With active ball control the efficiency can then be further increased.