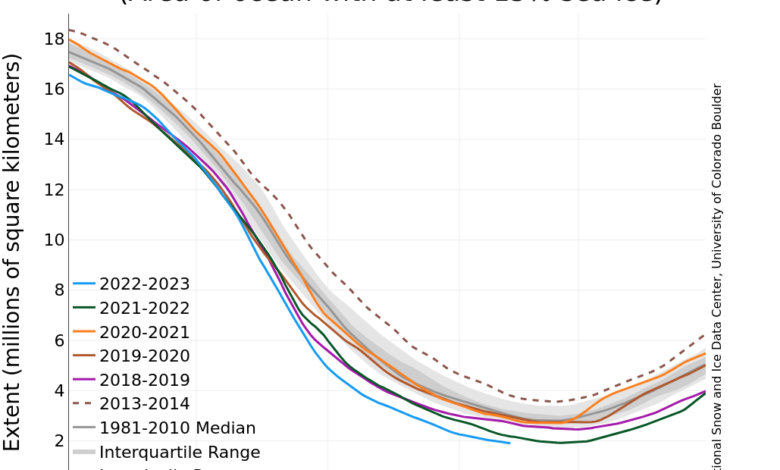 For the 2nd year in a row the Antarctic sea ice hits a negative point
(sustainabilityenvironment.com) – New negative record for the ice sheet of the South Pole. On February 13, the extension of the Antarctic sea ice reached 1.91 million km2, just below the 1.92 million km2 reached only last year, February 25. It's the lowest point since satellite tracking.
And the value may fall again as there are probably two more weeks before the end of the warm season in the southern hemisphere. The end of sea ice melting in Antarctica usually fluctuates between February 18 and March 3. "Much of the Antarctic coast is ice-free, exposing the ice platforms that line it to the action of the waves and warmer conditions," writes the US National Snow & Ice Data Center, responsible for monitoring.
Since December the Antarctic sea ice is at its lowest
The new record doesn't come as a surprise. The levels of the South Pole Marine Ice Sheet, in fact, have remained consistently below those of the previous year since mid-December (the beginning of the austral summer). The reason? The Antarctic oscillation -the low-pressure belt surrounding Antarctica- "led to westerly winds stronger than average", while "weather conditions brought hot air to the region on both sides of the Antarctic Peninsula".
Read also A hidden river accelerates the melting of the Antarctic ice sheet
This melted much of the ice cover in the Amundsen and Bellingshausen seas and reduced the extent of sea ice in the northwest Weddell Sea. "Sea ice is uneven and almost absent on a long stretch of the Pacific coast of Antarctica," the NSIDC notes.
However, it is good to take the data of the last two years with due caution. If you look further you will notice that they are not enough to define a trend. Despite two consecutive negative records, the long-term trend, from 1979 to today, is a flat curve: there is no structural loss of sea ice. And it should also be remembered that four of the five highest values for the summer glacial minimum were recorded after 2008.