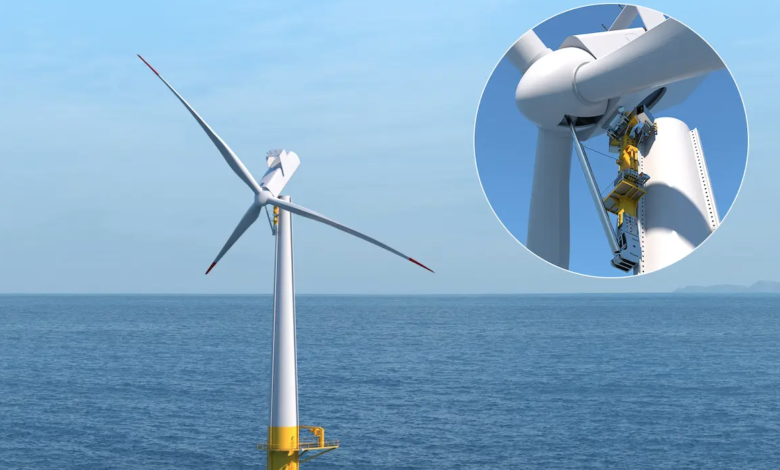 A self-installing wind turbine to reduce installation and operating costs
The United Kingdom is the first self-installing wind turbine of large dimensions. Or more precisely, the first two self-installing turbines. Among the green projects funded by the UK Department of Economics in favour of wind energy, there are also two demonstration prototypes equipped with SENSEWind technology.
The young company has developed a robotic system that allows to "self-assemble" the rotor nacelle without resorting to cranes or specialized ships. A modular solution that automates the lifting of heavy loads and the positioning at height of the carrycot group, while reducing costs and technical risks. The system, says SENSEWind, has the additional advantage of being able to be used in reverse to allow a quick replacement of the main components.
The first tests in Northern Ireland using a modified Vestas V27 rotor and a 26-meter-high tower gave the expected results, preparing the company for the next step: a large-scale demonstration. The company has announced these days through a post on social media to have awarded the Danish SM Industries – Sõnderjyske maskinfabrik (ex Valmont) the construction of a wind tower specially designed to demonstrate and improve the system SENSE SET (Self-Erecting Tower) and the SENSE RNA (Rotor Nacelle Assembly) system.
Read also Growing algae at sea among wind turbines
A 2 MW project on land that will be followed by an even more ambitious initiative: the technology will also be scaled for a floating 15 MW offshore wind turbine. "SM Industries is one of the world's leading and most experienced wind tower manufacturers, so we are excited to welcome them as a key project partner," said Julian Brown, president of SENSEWind. "Working in partnership with Aerotrope Ltd, Ltd, a renewable energy engineering company based in the UK, we look forward to SM Industries bringing Danish know-how and the best insights to tower design for mass production".