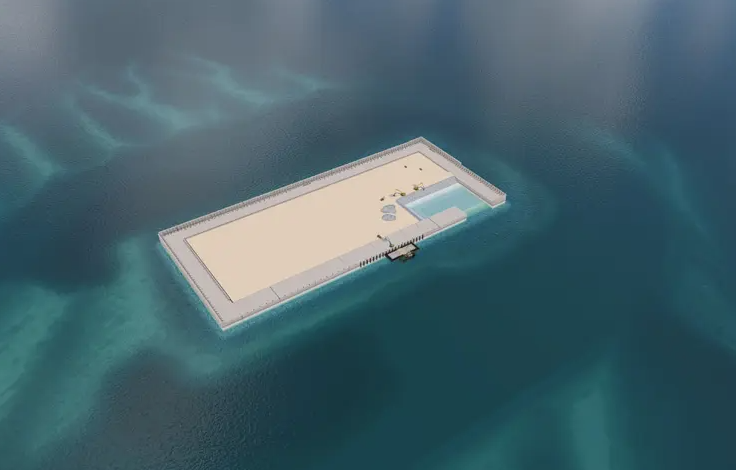 The construction of the foundation of the energy island will start in 2024 and will last 2 and a half years
(sustainabilityenvironment.com) – The world's first artificial energy island takes shape. This is the project Princess Elisabeth, future electric hub in Belgian waters that will connect offshore wind farms to the mainland and the energy systems of neighboring countries. In these days the Belgian TSO Elia has announced it have awarded the contract EPCI (Engineering, Procurement, Construction & Installation) to the consortium TM Edison – joint venture Jan De Nul and Deme – winner of the tender launched in January 2022. "We can't wait to work together on this technical tour de force," commented Luc Vandenbulcke, CEO of Deme Group. "The strength of TM EDISON lies in the qualitative execution that will result in the lowest possible carbon footprint and the lowest rise in the water level of the North Sea".
Princess Elisabeth Island, the project
Princess Elisabeth Island will be the first artificial energy island in the world to combine direct current (HVDC) and alternating current (HVAC). The high-voltage infrastructure will collect energy from the nearby offshore wind farms in the Princess Elisabeth area of the same name, where a total new capacity of 3.5 GW will be activated by the end of 2026. At the same time, the gigantic platform – which will have an extension of 12 football pitches – will also serve as a hub for future hybrid interconnector projects in Britain (Nautilus) and Denmark (TritonLink). Located in the North Sea about 45 kilometers from the Belgian coast, the island will also have a small port and helicopter platform to allow maintenance teams to easily access it.
Lead time
Now that the design contract has been awarded, the offshore energy island finally has a precise timeline. The construction of the island will begin in early 2024 and will continue until August 2026. From 2026 to 2030, the electric infrastructure will be built and put into operation. "Belgium has been a pioneer in offshore wind energy for 15 years, and today again demonstrates its expertise through its first energy island, which is also a world premiere," commented Tinne Van der Straeten, Belgian Minister of Energy. "Our offshore expertise is now recognised worldwide. As we continue to innovate, we also strengthen our position for the future. We are giving our companies another chance to be true pioneers, both here and abroad".