Guardian survey maps methane leaks around the world
(sustainabilityenvironment.com) – More than 1000 maxi methane spills in 2022. With huge emissive contents, able to gnaw a good part of the carbon budget that remains before we exceed the threshold of 1.5 degrees. Those responsible for methane leaks: especially the oil and gas sector, but also the waste sector.
This is revealed by an investigation by the British newspaper Guardian, which is based on the analysis of satellite data to detect and estimate the leaks of methane, a greenhouse gas with climate-altering power 82.5 times higher than CO2 for the first 20 years in which it remains in the atmosphere.
Methane mega leaks in 2022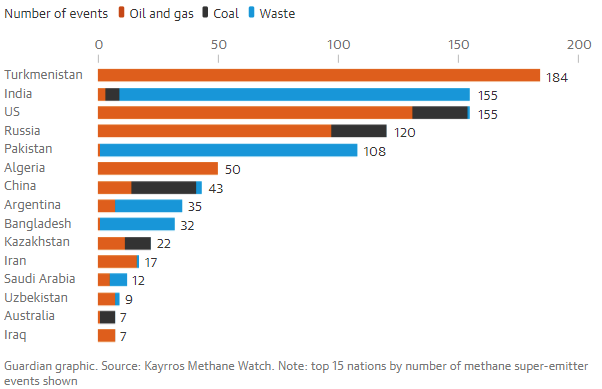 The United States, Russia and Turkmenistan are responsible for the largest number of methane leaks from fossil fuel plants. According to data collected by the Guardian, the single most significant event was an hourly 427-ton methane spill that occurred in August, near the Caspian coast of Turkmenistan and an important gas pipeline. "This single loss was equivalent to the emissions rate of 67 million cars, or to France's national hourly emissions," notes the survey signed by Damian Carrington.
September 9 was the turn of a refinery near Basra, in southern Iraq. The plant – located in one of the most polluted areas in the world, where citizens are regularly hospitalized for drinking water contaminated by hydrocarbons – has released 356 tons of methane per hour. And again: in the United States on November 7, a methane leak from a fracking site in Pennsylvania emitted CH4 for 13 days at a rate of 120 t/h.
Read also Methane emissions: 135 million tonnes for the energy industry
In the waste sector, the record goes to a site in India with 434 t/h, followed by one in Bangladesh with 371 t/h. As for coal, however, the largest methane outflows occurred in China and Kazakhstan.
The concentration of methane in the atmosphere has been growing rapidly, especially for 20 years. In absolute values, in 2021 it has been attested to an average value of 1.895,7 ppb (parts per billion), which is 160% above the levels of the pre-industrial epoch. Between 2021 and 2020 the jump was 17 ppb, an absolute record. About 1/3 of the global warming accumulated since the beginning of the industrial era (0.3-0.4 ºF) is attributed to methane.