Solarpower Europe launches its report "Solar Power Heats 2023"
The expensive energy that has characterized most of 2021 and all of 2022, with the outbreak of war in Ukraine, has dealt a hard blow to European families. But not all. There are those in the difficult energy context of last year, that could lighten the electricity and gas bills.
The new report by SolarPower Europe, entitled "Solar Power Heats 2023", explains how German, Spanish and Italian families have managed to save money by using photovoltaic with heat pumps. How much? Depending on the case, 62 to 84% less. Obviously the final figure depends on the country, the national price increases and weather conditions. In 2022, a typical Italian family equipped with solar panels and heat pump saved about 3,766 euros on energy bills. The figure is reduced for the typical German family to 3,614 euros, and for the Spanish family to 2,831 euros.
Photovoltaics with heat pumps, boom of installations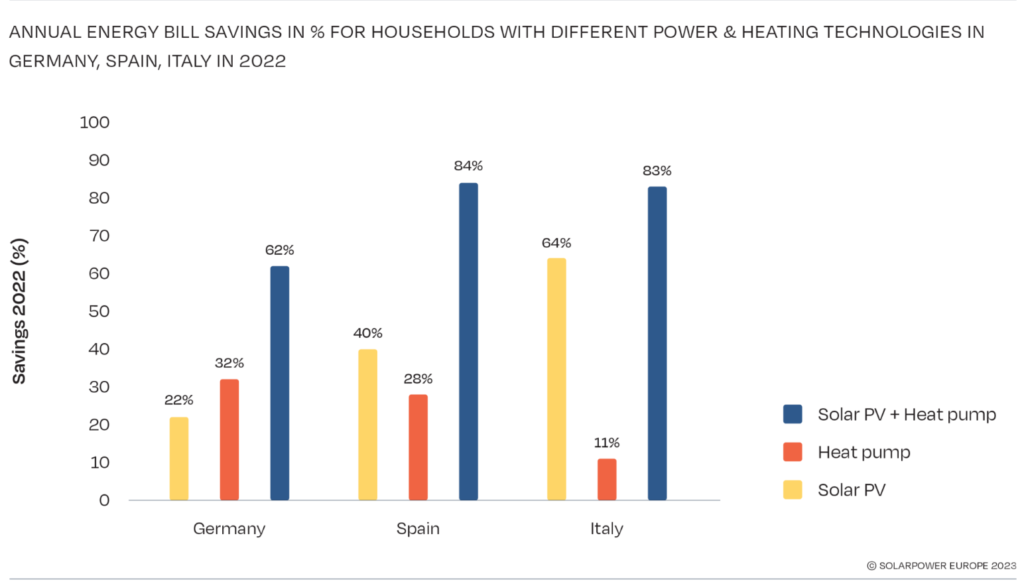 "The high prices of gas and electricity in 2022 – reads the report – have led to particularly interesting annual savings thanks to photovoltaic solar technologies and heat pumps. Many homeowners have understood this and have invested at record levels in these technologies: in Germany, Italy and Spain […] residential roof installations have increased by 9%, 240% and 106% respectively on an annual basis. While the installations of heat pumps are increased by 53%, 37% and 21%".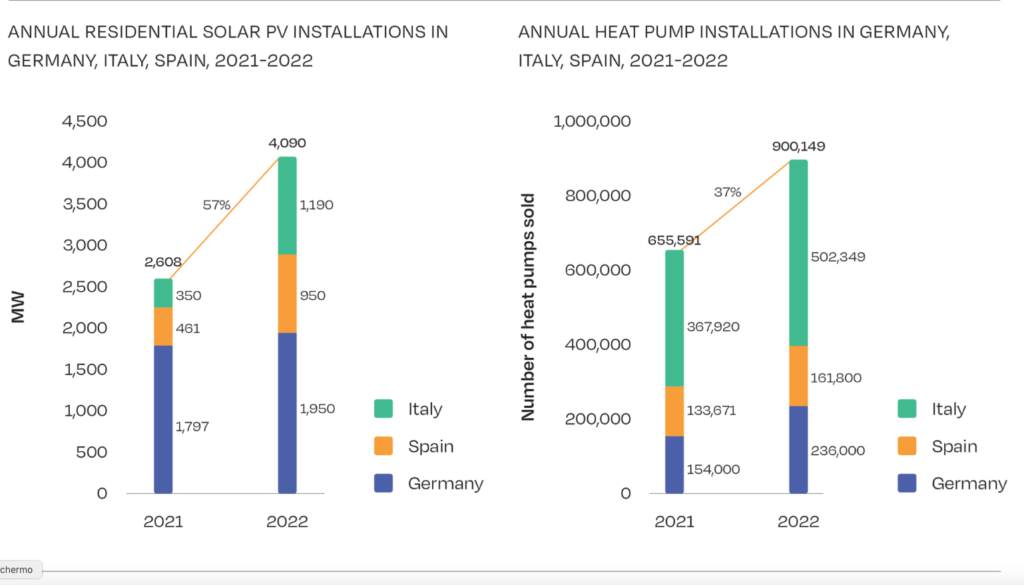 Beyond the current energy crisis, the coupled photovoltaic with heat pump promises savings for the future. Even if gas prices fell to 2019 levels, these technologies would allow households to reduce their bills by up to 73%. "The best time to install photovoltaic with heat pumps was yesterday. The next best moment is today", comments Dries Acke, Policy Director of SolarPower Europe. "European politicians must bring the benefits of gas-free homes to a wider population. Payback time must be reduced" for new installations "by supporting initial investment by households and by offering loans at low-interest rates. Politicians should also level the playing field and end all state aid for fossil gas heating".