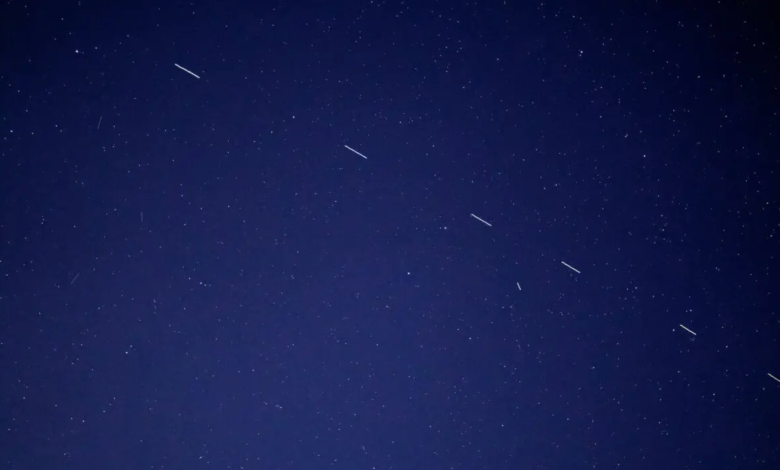 We must "stop the attack" of the light pollution of satellites
(sustainabilityenvironment.com) – The mega-constellations of satellites are "an unprecedented global threat to nature". They travel in low Earth orbit, between 300 and 1000 km high. And they twist the night sky. By taking away the stars, more than they do headlights, street lamps and other light sources, and preventing astronomers from working. It is from this category that comes to the call, published in Nature Astronomy, to take drastic decisions against the light pollution of satellites.
The finger is pointed at Elon Musk and his Starlink. A system of thousands of micro-satellites that are stationed in orbits around 550 km and allow access to the internet even from places not served by cable connections. It is used by Ukrainian soldiers at the front as well as criminals who run illegal mines in the Amazon. Since 2019, when Musk put the first satellites into orbit, the total number of objects of human origin in space has doubled.
Banning Starlink to avoid light pollution of satellites
"Direct sunlight lighting of functioning satellites, failed satellites, remnants of launch hardware and debris (collectively "space objects") makes them visible as strips or trails in optical and infrared astronomical images, that can compromise scientific data", write scientists. In perspective, the main problem is space debris. The orbit where the already congested Starlink satellites are located and the planned launches exponentially increase the risk of collisions. By mid-2022 the fragments larger than 10 cm were already over 36 thousand. The smaller ones, probably, about 1 million.
"Since it is not too late to stop it, we scientists and first of all the citizens should take action to stop this attack, from above with satellites and from below with artificial night light (Alan), to the natural night and the intangible cultural heritage of the starry skies of humanity", write scientists. They propose banning mega-constellations to limit light pollution from satellites: "It's time to consider banning mega-constellations and promoting a significant reduction in Alan and the resulting light pollution. Our world definitely needs a "new deal" for the night".