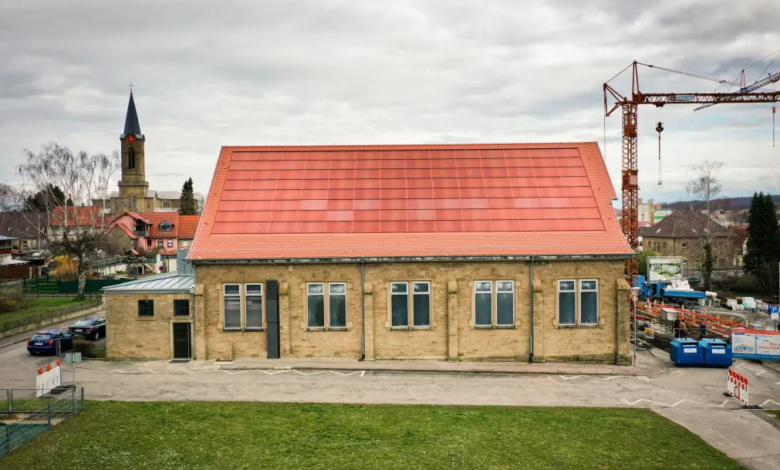 Red PV lands on German roofs
(sustainabilityenvironment.com) – Goodbye black and blue panels. In the German town of Eppingen, solar technology is noticed by changing color. But it would be more accurate to say that it does not get noticed. The new brick red photovoltaic roof built on a historic building of the town, in fact tries to blend in as much as possible with the roofing tiles. For an aesthetically interesting final result.
The installation is the result of the research project "PVHide", led by the Fraunhofer Institute for Solar Energy Systems ISE, together with the module manufacturer AxSun Solar, the development and consulting company INTERPANE and the German municipality. The goal was to develop scalable concepts for an economic photovoltaic, invisible and integrated in the building.
The MorphoColor technology colors without colors
When you combine solar energy with the urban environment, aesthetics have their weight. Especially if you are dealing with historic or protected buildings. It is also to help the photovoltaic to blend in with the surrounding environment that was designed and patented by the Fraunhofer ISE MorphoColor®. What is it? A technology that can color solar panels without using pigments or inks.
The solution is inspired by the optical effect used by the butterflies Morpho Blue. In the wings of these animals, tiny scales reflect specifically a narrow range of wavelengths, giving the eye a beautiful iridescent blue. Scientists from the German Institute re-designed these elements by applying them to the back of the glass covering the fv panels by a vacuum process. In this way, depending on the fine structure made, the glasses can provide the color blue, green or red.
The red photovoltaic roof of Eppingen
The first practical application of this technology, as Dr. Harry Wirth, was built last year by integrating green photovoltaic modules in the facade of the high-efficiency solar cell center of the Fraunhofer ISE. The goal was to create a decorative pattern while with the new red photovoltaic roof of Eppingen the emphasis was on discretion.
"The completion of the pilot plant is an important step forward for the large-scale implementation of MorphoColor. From the production of colored glass sheets, we have been able to greatly improve our understanding of optics and angular color stability," says Dr. Thomas Kroyer, project manager at Fraunhofer ISE. "The new MorphoColor-coated photovoltaic modules. always show their intense color, no matter where the sun hits them".
The red photovoltaic roof consists of 224 MorphoColor® coated solar modules, which were installed on both surfaces of the roof, facing east and west. The plant offers a total power of 66 kwp and produces at least 90 percent of the electricity that would generate a classic photovoltaic roof without special coating technology.