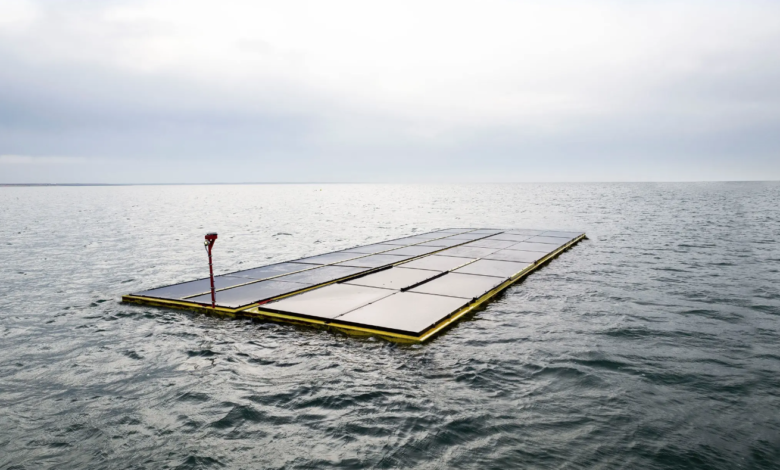 Within the end of the year will be operating 0.5 MW of solar panels at sea
(sustainabilityenvironment.com) – They can be installed in the open sea, resisting high waves and the salinity of the water, offering clean energy at a competitive price. These are the offshore photovoltaic systems on which the Dutch Oceans of Energy has been working since 2019, floating systems that can be installed off the coast regardless of the depth of the seabed. These are not prototypes or demonstration concepts. These days, in fact, the company has been awarded the contract for the installation and management of 0.5 MW of solar panels at sea within the offshore wind farm Hollandse Kust Noord.
In July 2020, the CrossWind consortium was awarded the government tender to build a 759 MW wind farm at about 18.5 km from the coast, which alone will provide 16% of the country's electricity needs. But what really makes the project special is neither the place nor the power. One of the aspects that convinced the Government to reward the offer of CrossWind was in fact the mix of technologies alongside the wind turbines. From the floating photovoltaic system, to an electrolyzer for in situ production of hydrogen, from adaptation systems to minimize the negative effect of 'wake', to storage systems.
Floating photovoltaic panels, how to share space
"We are excited to announce that we have signed a contract with Oceans of Energy to develop and implement the floating solar project in CrossWind, says Maria Kalogera, Innovations Manager at CrossWind. "Offshore solar floating is an exciting area of renewable energy development that is ready to play an important role in the energy transition".
Oceans of Energy will therefore deal with solar panels at sea, which will be operational two years before the turbines. The company promotes the operation as the first photovoltaic park in the world to be connected, installed and managed within a wind farm in rough sea conditions.
The solar float integrated in the wind turbines, explains the company in a press release, will produce energy even on sunny days but less windy, thus increasing the use of the network infrastructure. "The solar panels located between the turbines represent an efficient way of sharing marine space".