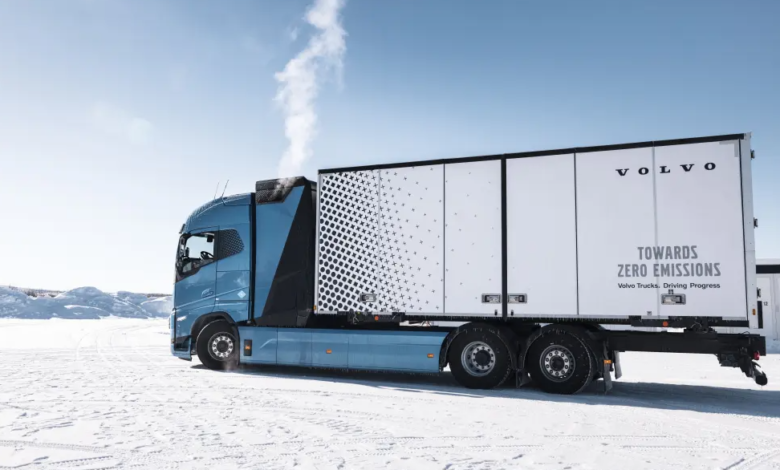 Volvo hydrogen-powered electric trucks challenged wind, ice and snow
– It was June 20, 2022 when Volvo Trucks premiered its new hydrogen-powered electric trucks, over 65-ton articulated trucks equipped with 300 kW of fuel cells. Today, almost a year later, the company takes the next step by bringing its innovative electric vehicles on the asphalt in real conditions.
The Swedish company said they had started testing Volvo hydrogen-powered electric trucks on public roads. And not just any road. A route was chosen for the experiment in the north of Sweden, in extremely harsh climatic conditions.
"Trucks are operating seven days a week and in all types of weather. The harsh conditions on public roads in northern Sweden, with ice, wind and lots of snow, make an ideal testing environment," says Helena Alsiö, VP Powertrain Product Management at Volvo Trucks. "I am pleased to say that the tests are going well, confirming tests we carried out beforehand, both digitally and on our confined test track close to Gothenburg."
The company has been working on technology for several years and today promises electric articulated trucks with fuel cells, equipped with an operating range comparable to many diesel trucks – up to 1,000 km – and a refueling time of less than 15 minutes. Once production is ready to go, Volvo Trucks will rely on fuel cells provided by cellcentric, the joint venture between the Volvo Group and Daimler Truck AG.
The operation is part of the strategy to expand the Group's ecological fleet. At the moment, Volvo already offers the widest range of products in the industry for battery electric trucks, with six models in series production, meeting a wide variety of urban and extra-urban needs. In this context, hydrogen-powered electric trucks have been designed to provide vehicles more suited to long distances, where the use of batteries alone is not an option. For example, in rural areas without charging infrastructure.
"We need to act now in order to stop global warming. Regardless of the transport assignments or where in the world our customers are operating, waiting is not an option. In a few years, our customers will be able to completely eliminate CO2 exhaust emissions from their trucks," says Roger Alm, President of Volvo Trucks.