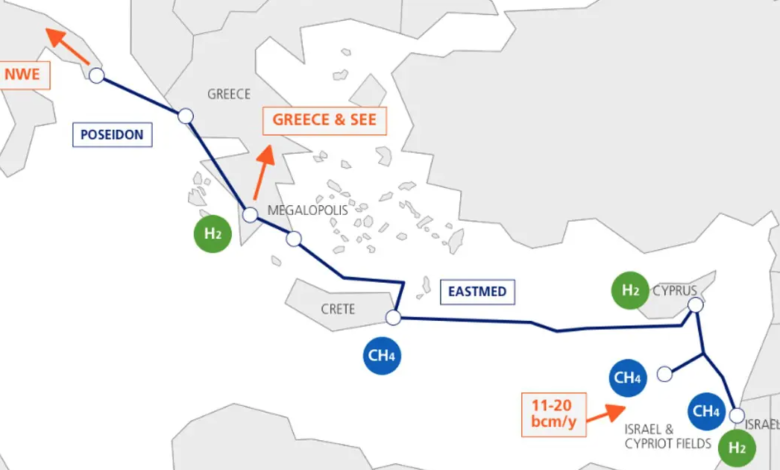 The position of the new government of Cyprus on the EastMed pipeline
(sustainabilityenvironment.com) – EastMed will not be a pipeline but a "virtual pipeline": a link between Israel, Cyprus and continental Europe secured by supplies of liquefied natural gas. Only one stump remains of the original Eastmed pipeline, the route that connects Nicosia and Tel Aviv. These are the words of Cypriot Minister for Energy Giorgos Papanastasiou, the last to argue the idea of connecting the rich gas fields of the eastern Mediterranean with Europe by pipeline.
The decline of the EastMed pipeline
The idea has held up for years but has recently started to lose support. The United States, once a major sponsor, in January 2022 explicitly tanked the project by 11-20 billion cubic meters of gas per year. Too high the risk of new tensions in the area (Turkey is against because it claims to have exploitation rights of the Cypriot basins through Northern Cyprus). Washington has not changed his mind even after the Russian attack on Ukraine and the gas crisis.
Europe has gone against the tide so far: it has continued to keep the EastMed pipeline alive even with the latest update of the TEN-E regulation in December 2021. All new fossil projects have disappeared from the strategic infrastructure that can be financed by the EU, but with a macro exception for EastMed.
A virtual pipeline for LNG
Instead of the 1,900 km of EastMed submarine pipeline, for an investment of at least 6 billion dollars, the new government of Cyprus took office in February prefers to build a pipeline that connects the main offshore fields of the area, both Cypriot and Israeli. "The eastern Mediterranean has enough deposits. Most of them are within the exclusive economic zone of Israel, but Cyprus also has sufficient quantities to realize this project", Papanastastiou assured. The pipeline could be completed in 18 months.
The gas arriving on the island can then be liquefied in newly built plants (it takes 2.5 years according to official estimates) and then shipped to Europe by ship, taking advantage of the boom in regasification capacity development in Europe (Italy included). This virtual pipeline could obviously supply other markets, leaving Europe with the expected decline in gas demand in the coming decades. "When you have liquefied natural gas, this can go in any direction. Europe needs it most, but markets can also be found in Asia," he said.