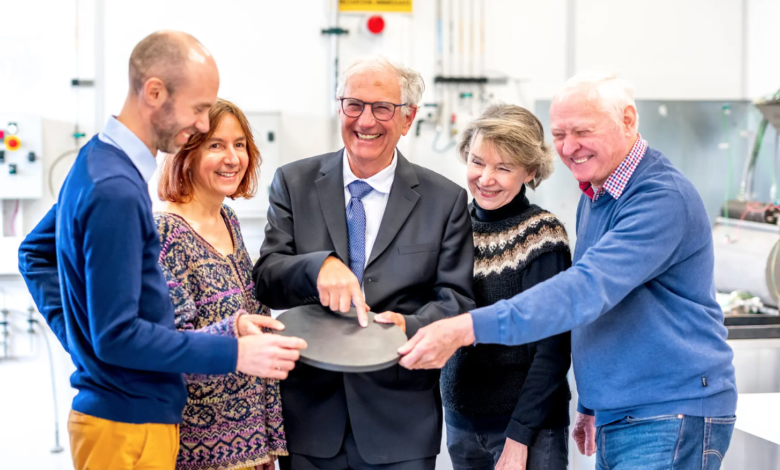 The invention is marketed in Europe, Australia and Japan
(sustainabilityenvironment.com) – To see it in the hands of its creators it looks nothing but a metal plate, similar in many ways to the weights of the barbells. But the solid record made by Patricia de Rango, Daniel Fruchart, Albin Chaise, Michel Jehan and Nataliya Skryabina hides an energetic heart. The team, belonging to the Centre National de la Recherche Scientifique, in France, has developed a new method to store hydrogen in a safe, practical and sustainable way.
Combining multidisciplinary experiences, the group has developed an atomic structure and a process capable of "transforming" hydrogen into a stable material that can be stored for years without degradation. And that requires much less energy than the storage of H2 in liquid form or as a gas. "The system is very safe due to the low pressure level used," said Fruchart. "I can put the record directly on the table and there is no reaction with the air".
The recipe for safe storing hydrogen
The secret? The use of magnesium hydride (MgH2) mixed with metallic additives to store H2 chemically and the addition of expanded graphite to the mixture to manage the heat as the hydrogen is released. Everything is mechanically compressed into a solid disk, which can be easily stored and transported.
Read also Producing hydrogen on the roof with KIT photoreactor panels
The invention, already patented and marketed in Europe, Australia and Japan, has recently been awarded the European Inventor Award 2023 in the Research section, one of the most prestigious European innovation awards created by the European Patent Office. Over 600 candidates were selected. "The search for green, renewable and abundant energy is one of humanity's main concerns," the team said. "Hydrogen has great potential, but its storage and distribution raise logistical and safety issues. This award puts us on the road to a decarbonised future, applying our solution to store hydrogen on an industrial scale".