Climate Change
July 4, 2023 was the hottest day ever recorded on Earth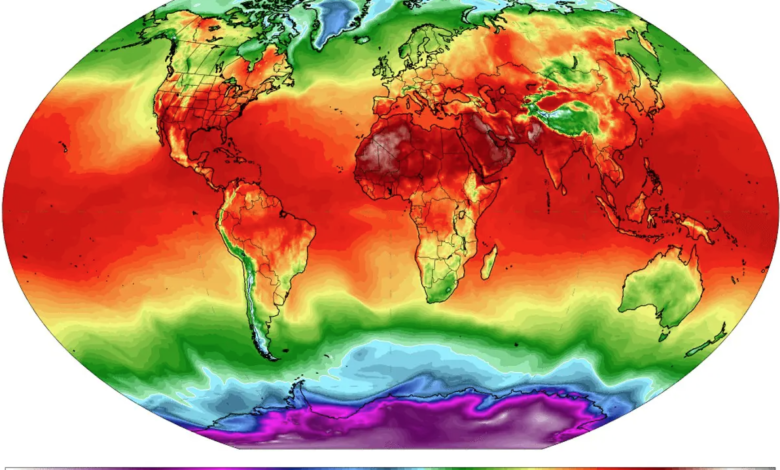 Record June with +1.46°C the thermal anomaly on the preindustrial era
(sustainabilityenvironment.com) – On July 3, the global thermometer exceeded 17 degrees for the first time, reaching up to 17.01 ºC average temperature. The following day, July 4, it continued to rise to 17.18ºC. As it makes it the hottest day ever recorded on Earth since systematic monitoring began. The previous record dates back to 24 July 2022 and 13 August 2016, in both cases the mercury column stopped at 16.92°C. The thermal anomaly on the average 1979-2000 is close to the degree (+0.98°C), well beyond the two standard deviations.
l 2023 could become the hottest year ever with +1.37°C

It is only the last data to confirm that 2023 is on track to become the hottest year in history, beating 2016, 2019 and 2020. All this before El Niño even begins to feel its effects on a global level. Which it will now certainly do. Yesterday came the further confirmation from the World Meteorological Organization, the thermal conditions in the eastern Pacific indicate the trigger of the Child, the probability of continuing in the second half of the year is 90% and its intensity is expected to be at least moderate.
Read also Global warming reshuffles Europe's climatic zones (and more)
Meanwhile, weather anomalies continue to accumulate records in this 2023. In addition to the hottest day ever, the month of June has never had such high average temperatures. According to data from ERA5, the European system of last generation of climatic data reanalysis, the month that has just ended was 1.46°C warmer than the average of the pre-industrial period (by convention, the second half of the 800), 0.16°C above the previous record of the same month of 2019. With the addition of 6 months of the year, 2023 has a good chance of becoming the hottest year in history with a thermal anomaly of 1.37°C (ERA5 median estimate).