Rystad Energy's analysis of the import of photovoltaic solar panels
In European warehouses photovoltaic panels of Chinese production continue to accumulate. To the point that stocks, about 40 gigawatts of total capacity for a total value of 7 billion euros, have now reached the power fv that the Old Continent manages to install annually. These modules could generate enough electricity to power 20 million homes a year, but in no way represent an endpoint. This is explained by the new analysis by Rystad Energy according to which the import of Made in China will grow to the point of accumulating in European warehouses up to 100 GW of photovoltaic by the end of this year. "Market observers may think that good stock levels are predicting a slowdown in imports on the horizon, but the first months of 2023 tell a different story," the analyst says.
Growing import of Chinese photovoltaic panels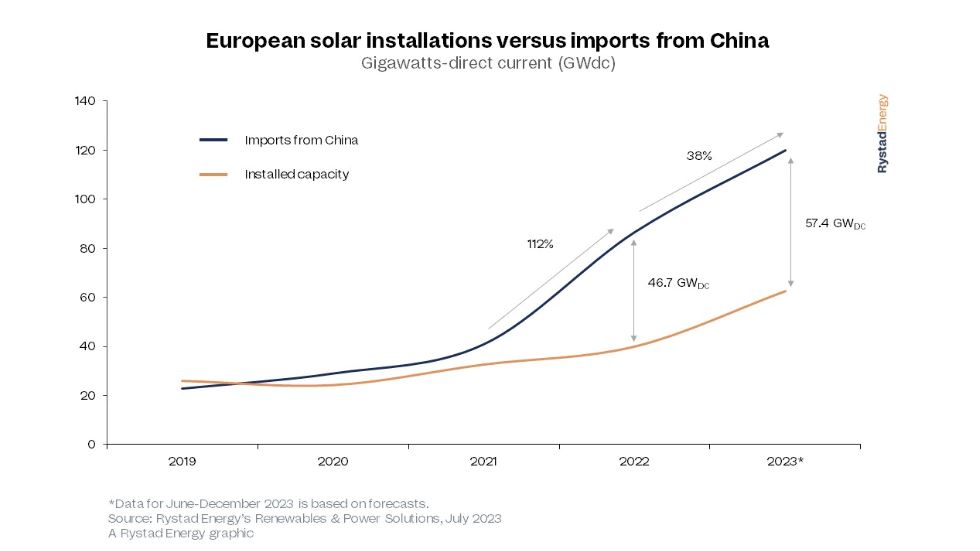 It is no mystery that European expenditure on solar import has almost quadrupled in the last five years, from 5.5 billion euros in 2018 to over 20 billion euros in 2022. Throughout this period of time, thanks to a mix of incentive policies, unfair competition and generous investments, supply has been increasingly concentrated in a single country: China. That is why it is not surprising to know that 91% of the budget spent by Europe for importing modules and cells, ended up on Chinese products.
According to a recent report by the International Energy Agency, the Asian giant currently holds over 80% of the global fv market in its entirety, that is, considering the production of polysilicon, ingots, wafers, cells and modules. For some segments, market share is expected to rise even above 95% in the coming years. This concentration of the photovoltaic supply chain also has effects on the definition of prices worldwide. In other words, Beijing makes the good and the bad weather, while managing to keep a showy down on Made in China. Just think that at the moment the photovoltaic solar panels produced in China can cost even two thirds of those manufactured in the West.
read also Photovoltaic 2023: still record, towards 270 new global GW
A competitiveness that is increasing imports into the Old Continent. "European countries – says Marius Mordal Bakke, senior supply chain analyst at Rystad Energy – are desperate to get their hands on affordable solar infrastructure to push their renewable energy goals forward, decarbonize and avoid paying high prices for new capacity". And so the import fv of January 2023 grew by 17% compared to the same month of 2022, in February by 22%, in March by 51%. According to analysts, if the current import trends continue, 2023 will be remembered as a record year.
The European response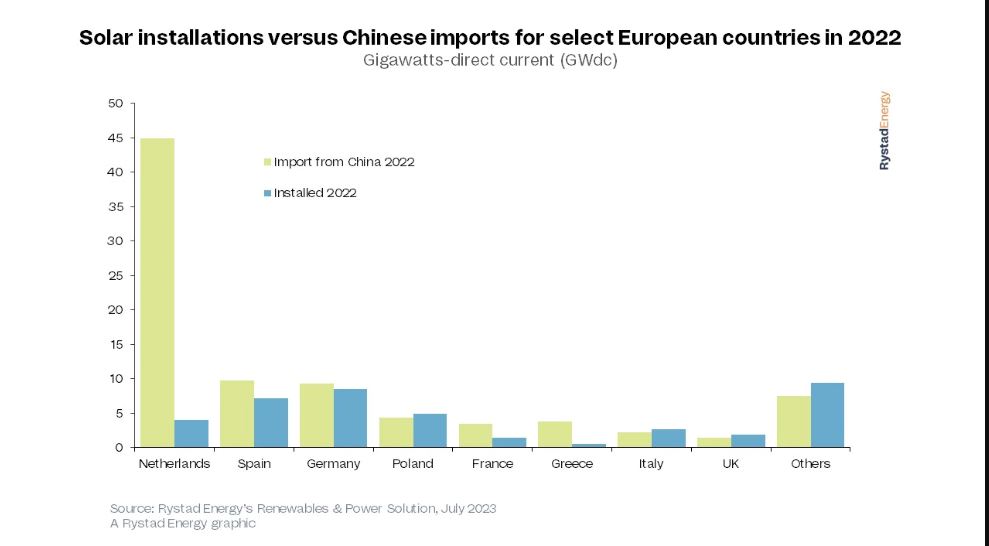 Of course, Europe is not just watching. The Green Deal Industrial Plan presented by the EU Commission in February aims to support the Green Bloc industry, including the PV solar panel industry, through a modified temporary framework for State aid, Simplified regulations and a European Sovereignty Fund.
And there is no shortage of great projects, such as that of the Gigafactory 3SUN in Catania. However, it is generally accepted that the EU moved too late and with little impetus. "Although efforts are underway to build a reliable solar supply chain in Europe, the current need for panels means that leaders cannot wait until 2025 or beyond to buy European products," added Bakke.
The company expects Chinese imports to Europe to increase by 38% annually and reach 120 GW by the end of 2023. Another noteworthy fact: import fv is heading to several key destinations, including the Netherlands, Spain, Germany, Poland, France, Greece, Italy and the United Kingdom. The Netherlands was the European country that purchased the most Chinese modules in 2022, with almost 45 GW of total capacity. But Spain, Germany and France also stood out.