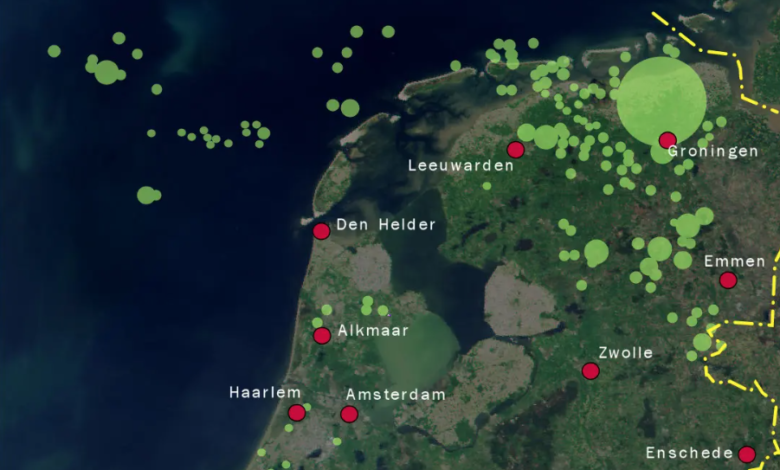 The total stop will be in 2024, only 11 wells remain operational
(sustainabilityenvironment.com) – Europe's largest gas field (and one of the largest in the world) closes its doors. The Dutch authorities officially decreed the end of the word for Groningen, after decades of protests by the population for the continuous earthquakes caused directly by the drilling.
Stop the largest gas field in Europe
The decision was already made in 2018 but the outbreak of the energy crisis first, and the war in Ukraine then, with the stop to gas imports from Russia, delayed the closure. Closure that is not immediately valid for the entire field. At least 11 wells, in fact, will remain operational for another year, just to ensure the country a margin of maneuver in the event of new energy shocks.
For years the largest gas field in Europe has been producing ever lower volumes, also for fear of the increasingly evident seismic repercussions. Inaugurated in the early 1960s, Groningen gave the Netherlands at least 2,300 billion cubic meters of fossil gas and generated a revenue stream of around 430 billion euros, of which 85% went directly into state coffers. Meanwhile, There have been telluric tremors that are increasingly worrying.
Earthquake factor
Earthquakes that have affected the area for over 20 years are low intensity but very close to the surface and have repeatedly caused damage to buildings and infrastructure. In addition, there are psychological effects on the population to be taken into account.
Read also We can reduce emissions from gas-fired power plants by 71
Just a year ago, on October 8, 2022, one of the strongest tremors occurred: an earthquake of magnitude 3.1 with an epicenter in Wirdum, 25 km north of the city of Groningen, and a depth of just 3 km. Only this episode resulted in over 1,100 reports of damage by the inhabitants. Research by the University of Groningen estimated in 2021 that earthquake damage in the area directly affected at least 100,000 people.
According to data from the Dutch meteorological organization KNMI, 1,470 earthquakes occurred in the Netherlands between 1986 and 2018. With an increasing frequency. Since 2001 there have been 9 events with a magnitude greater than 3, the strongest in Huizinge in 2012 with a magnitude of 3.6.