Solarplaza Summit Asset Management Texas
October 25, 2022

-

October 26, 2022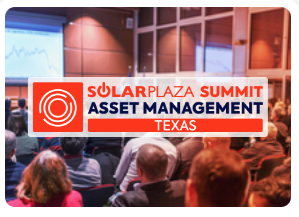 The one event fully focused on optimizing solar asset operations in the Lone Star State
Strategic asset management | EPC to O&M phase | Merchant vs. PPA
Join the Solarplaza Summit Asset Management Texas to gain in-depth, practical and localized insights into one of America's fastest-growing solar markets.
One-third of the utility-scale solar capacity planned to come online in the United States over the next two years (30 GW) will be located in Texas. But as more than 100 GW of solar projects are seeking interconnection in the Texas power grid, many challenges related to the development and operation of solar plants rise to the surface. This event will focus on connecting the dots between a proper EPC and operations phase and will zoom in on the optimization of Texan solar assets.
Building upon the success of 8 North American asset management conferences, the first edition of the Solarplaza Summit Asset Management Texas will combine a crowd of key local and global players, market insights from inspirational speakers, and extended networking opportunities.