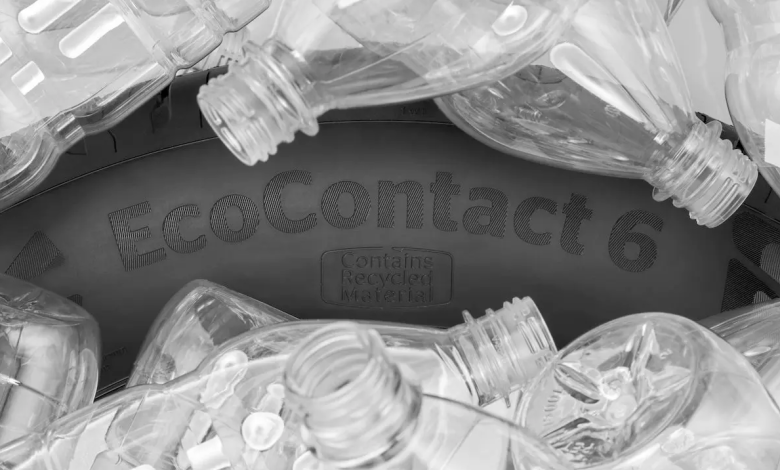 From recycling plastic PET bottles to tires
(Sustainabilityenvironment.com) – Continental has launched the first line of tires with recycled polyester yarn, made from recycling plastic PET bottles. We are talking about an innovative, high-performance material that will be presented in the market starting from the line of summer tires PremiumPremiumContact 6 and EcoContact 6. The new material will support the tire carcass.
With forty recycling plastic PET bottles you can produce a set of tires for a car. The new technology introduced by Continental, soon available on the market, will introduce circularity in the car industry and contribute to the recycling of large quantities of plastic. The new tires will bear a special logo with the words "Contains recycled material". The production currently refers to the plants in Lousada, Portugal.
ContiRe.Tex was first introduced in 2021. It is a technology that does not use any chemical transformation. The bottles are chosen and cleaned mechanically, then shredded until the PET plastic is transformed into granulate, and then into polyester yarn from which the tires are produced.
Ferdinand Hoyos, who leads Continental's tire replacement business in Europe, the Middle East and Africa, said: "We only use high-performance materials in our premium tires. From now on, these will include polyester yarn from bottles, made in a particularly efficient recycling Plastic PET process. We took our innovative ContiRe.Tex technology into production in just eight months. I am proud of our entire team for this remarkable result". "By 2050 at the latest, we want to use only sustainable materials in our tire production".
Continental Research for Sustainable Innovation
Polyester PET plastic yarn had already been used as a material for tires because of its versatility. The strings that make it in fact make it able to absorb the forces of internal pressure without loads or high temperatures changing its shape or size.
This is just one of the innovations of the tire giant from Hannover. In fact, in September 2021 he had already presented the Conti GreenConcept, using the polyester of recycling plastic PET bottles to compose parts of the carcass. In February 2022, it launched ContiRe.Tex, which this year will equip all support vehicles for the Tour de France.