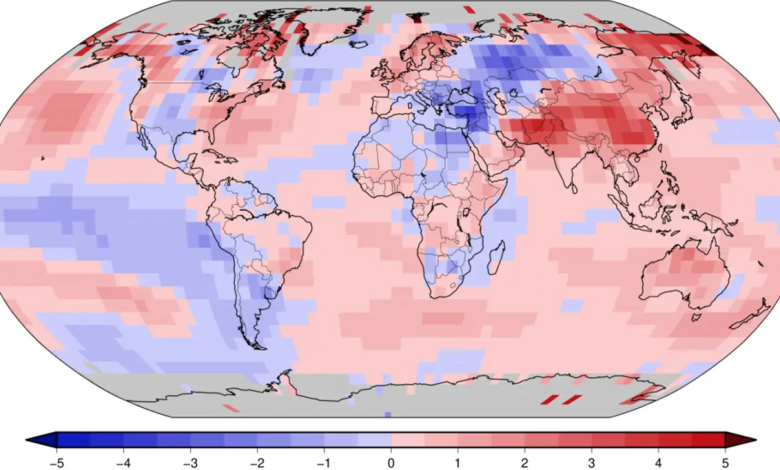 Noaa's analysis Climate change of global warming in March
(Sustainabilityenvironment.com) – The one just ended was the 5th hottest March in history. Climate change has stopped at 0.95 ºC ( 0.15 ºC) above the historical average of the Noaa archive, which began in 1879. Very far from the record set in 2016, the hottest year in history, when the mercury column in March had been +1.31°C above the norm. It was also the month with the most consistent thermal anomaly of Climate change since November 2020.
In much of Australia, South and East Asia, and parts of Central America and North South America, the month of March were characterized by warmer than average conditions. But also in central Africa, as well as in parts of the Atlantic, Indian and North and West Pacific oceans. Record abnormal temperatures were observed in March by the Noaa also in southern Asia and parts of the northern and western Pacific Ocean, as well as parts of the Atlantic Ocean.
Moving to Europe, the continent has recorded one of the most contained thermal anomalies, but still over 1 degree (1.09 C) of deviation from the average 1910-2000 used as a reference by the American body. Southern Europe, with the exception of the Iberian Peninsula, has had lower than average temperatures, largely offset by peaks in the British Isles. If we consider the temperatures from January to today, however, global warming defines in Europe at +2.09°C overall.
But the real anomalies of heat in March were recorded in Antarctica. Where, moreover, the negative point for the extension of the sea ice has been touched: it was 30% below the average, worse than it was only in March 2017. The average thermal anomaly on the ice continent was 22.2 ºC. Several locations set new temperature records on March 18, 2022, aided by a massive heatwave. Concordia station recorded -12.2°C, which is 38.8°C above average.