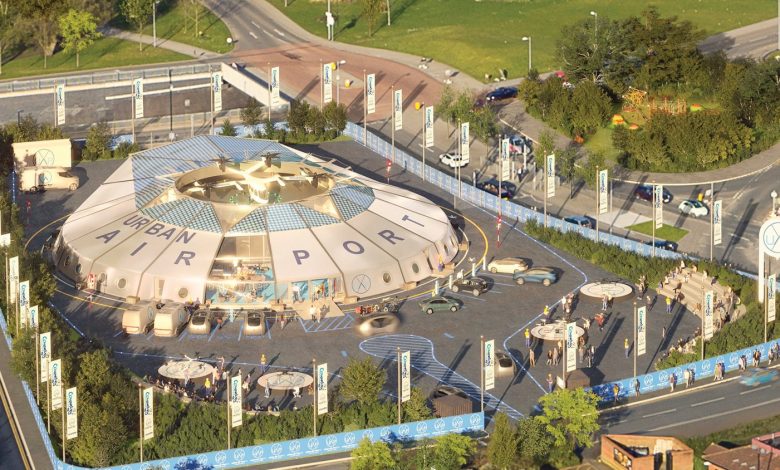 Autonomous urban aircraft market will attract 1.5 trillion investments by 2040
(Sustainabilityenvironment.com) – The world's first urban airport for electric vehicles is operational, here is Air-One. The inauguration will take place this week in Coventry (UK) with the support of the government and from that moment a new type of urban mobility will be tested. The hub is designed to accommodate any type of electric vehicle with take-off and vertical landings (eVTOL) such as cargo drones and flying taxis.
The test will last a month and aims to turn the prototype into an exportable project in another 200 sites already planned around the globe within the next 5 years. The airport of innovation was conceived by Urban-Air Port, a UK developer of ground infrastructure specifically for air taxis and cargo drones.
Advanced Air Mobility (AAM) goes on without interruption and prepares plans for the future. Not long ago, in the UK, the Skyway project was launched, the first aerial cargo drone highway.
We are not talking about a niche market. According to the latest estimates by Morgan Stanley Research, the autonomous urban aircraft market will attract a financial commitment of $ 1.5 billion by 2040.
The promise of sustainable mobility
Air-One will try to show that the decarbonization of the mobility sector, inevitably passes through the sky. A dedicated ground infrastructure can unlock the potential of AAM, advanced air mobility. The result would be lower transport congestion, reduced pollution, and uninterrupted deliveries and travel.
The first month of the hub will be used to test various charging systems, air traffic control, cargo loading with unmanned drones and a series of demonstration flights. The Midlands police force will be the first to test the system. To show that the vertiport, it will also serve for the protection of the sky or the delivery of high-value goods.
"Cleaner, inter-city flight technology is vital not only to reduce emissions, but to better connecting remote communities, from small towns in the UK to isolated settlements all around the world", Comments Kwasi Kwarteng, Secretary of State for Enterprise, Energy and Industrial Strategy of the United Kingdom.
"Cars have roads. Trains have rails. Planes have airports. Now, eVTOL have Urban-Air Port," comments Ricky Sandhu, founder and executive president of UAP.
The airport Air-One
It took 15 months to complete the ground infrastructure project. The structure is spread over 1,700 square meters according to a configuration set on assembly and rapid disassembly. A central platform allows take-off and landing, while the surrounding areas are accessible to transit passengers. And to beat the competition, Urban-Air Port has designed and already put online a specific app to plan your trip, where there is also shopping for passengers. Detail designed ad hoc to diversify the offer for future new airports. Urban Air Poart is already planning to open a hub in London, Los Angeles, Australia, South Korea, France, Germany, Scandinavia and Southeast Asia.