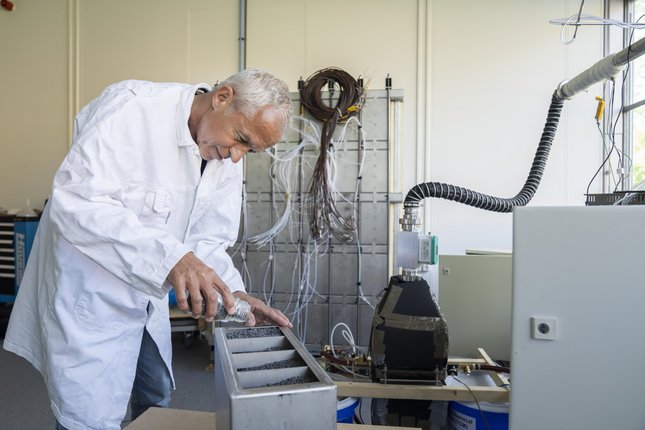 Steps forward for the TU/e and TNO home thermal battery
(Sustainabilityenvironment.com) – The new promise of the energy transition comes from the Netherlands. A group of researchers from the Eindhoven University of Technology and the Dutch research organization TNO have created an innovative domestic thermal battery. An ecological and economical solution that could free millions of homes from the use of gas for winter heating.
In 2019, the invention received €7 million from the EU's Horizon program. The researchers together with the other partners of the HEAT-INSYDE consortium used these same resources to further develop the technology. Planning the first real-world tests today.
How does the thermal battery work?
The HEAT-INSIDE battery uses two basic ingredients: water vapor and salt. When these components meet, water binds to salt, creating new crystals and releasing heat in the process. By bringing thermal energy back into the system, water and salt separate and as long as they remain far apart, it is possible to store the supplied energy without loss.
The first prototype saw the light a few days ago: a sort of large wardrobe consisting of 15 pairs of "boxes", each of which represents a thermal battery. The facility has a total storage capacity of over 200 kWh. A value, explains Professor Olaf Adan, at the head of the project, is "equivalent to two Tesla fully charged".
"We've optimized the previous version in countless ways," adds Adan. "Re-designed the individual components, such as the evaporator and the heat exchanger, and made better use of space and used other materials". The unit also includes a measurement and control system to optimize energy management.
If the installation has large dimensions, the individual units (boxes) have been specially designed to be modular and offer all kinds of possibilities in terms of design. Obviously including any domestic and "user-oriented" systems. The first practical tests will begin by the end of the year, with the installation of pilot batteries of about 70 kWh in two homes in Eindhoven, one in Poland and one in France. But the consortium is also considering thermal storage in office buildings, greenhouses, electric buses or luxury ships.