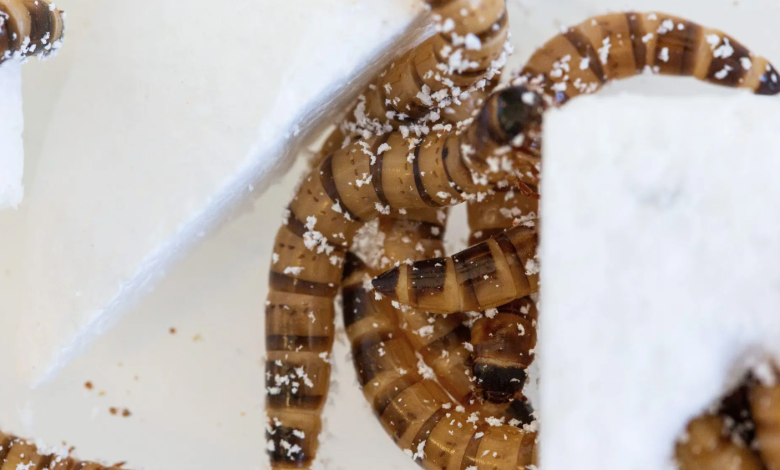 From polystyrene-eating worms to the new frontiers for plastic recycling
(Sustainabilityenvironment.com) – The larvae of the Zophobas Morio beetle, also known as "super worms" are able to eat polystyrene, revolutionizing the plastic recycling industry. A group of scientists from the School of Molecular Chemistry and Biosciences at the University of Queensland, Australia, discovered it. The team fed the larvae with different diets for a period of three weeks. Feeding some polystyrene foam, some bran, and nothing to the control group.
With all three diets, insects have completed their life cycle. "But we noticed that those on a polystyrene-only diet also experienced a slight weight gain," explains Dr Chris Rinke, author of the study, published in Microbial Genomics. "This suggested that the larvae could draw energy from polystyrene, most likely with the help of their intestinal microbes […] they are like mini recycling plants, they grind the plastic with their mouth and then eat it".
Scientists have found that Zophobas Morio's ability is based on enzymes encoded by intestinal bacteria: the long-term goal now is to design similar enzymes and use them to degrade plastic in recycling plants. The idea of scientists is to add a passage to the recycling of plastic. The mechanical shredding of plastic waste can then be followed by an enzymatic biodegradation process. If it works in the long term, it will change the world of plastic recycling and reduce the number of landfills. "The degradation products of this reaction – explained Rinke – can then be used by other microbes to create high-value compounds such as bioplastics".
Jiarui Sun, the co-author of the study, explained that the next step is the cultivation of intestinal bacteria in the laboratory, to further test this ability and verify how to apply it to recycling plants.