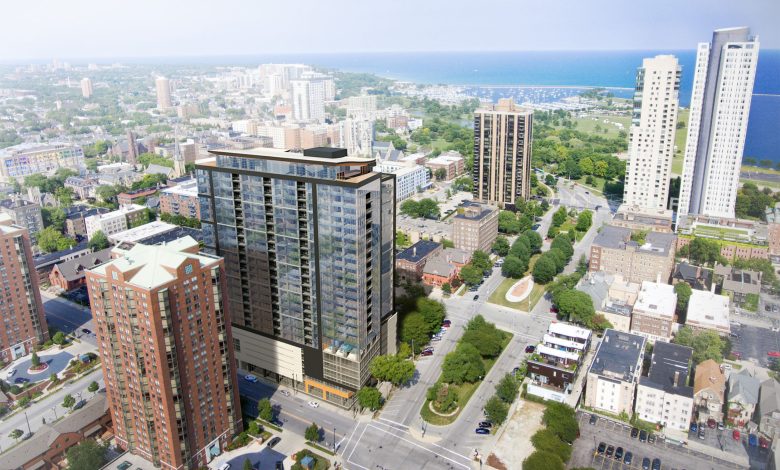 The world's tallest wooden skyscraper has so far been held by Mjơstårnet in Norway
(Sustainabilityenvironment.com) – It's official, the record for the world's tallest massive wooden skyscraper goes to the Ascent tower, designed by Korb + Associates Architects in the United States.
The new height to beat is 86.6 meters for 25 floors, only 1.2 meters taller than the current holder of the record of the world's tallest wooden building, the tower Mjơstårnet.
Ascent uses concrete only for the base and for the elevator and stair block. The rest of the structure is made of CLT laminated wood and solid wood.
To certify the height was the Council on Tall Buildings and Urban Habitat (CTBUH) placing at the top of the ranking of both wooden and hybrid buildings.
Its construction lasted just under two years and is inspired by a biofilm design. The architects of Korb + Associates Architects have favored natural materials to view, bringing nature inside the building. The wooden skyscraper in Milwaukee has a six-story podium for commercial spaces and services, as well as a car park and a lobby. While the 19 floors above are dedicated to luxury apartments. The outer casing is almost completely glazed as well as the attic and the roof terrace. One of the objectives of the designers, an indispensable requirement for the construction, was to ensure the absence of combustible materials in the skin of the building. According to the designers, the timber used to build the Ascent tower also sequesters enough CO2 to the equivalent of 2,400 cars on the roads for a whole year.
Not to mention the significantly reduced timing to complete the construction of the wooden skyscraper.
The Milwaukee record will soon have competitors: by 2026 the Rocket&Tigerli by the Danish architects of Schmidt Hammer Lassen is expected to reach 100 meters high in Switzerland.