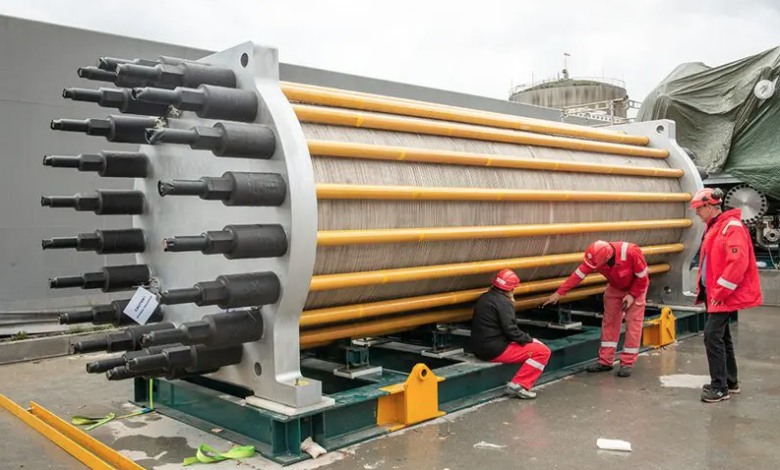 From China to Norway, the world's largest electrolyzer has ended its journey
(Sustainabilityenvironment.com) – The largest hydrogen electrolyzer in the world? For now it is located in the Norwegian peninsula Hersomeone, at the test center of the HydrogenPro. The company shipped it from its headquarters in Tianjin (China) where it was assembled, all the way to the motherland to test it. Evaluating efficiency and production.
The tests will begin this autumn and will have to verify that the electrolyzer also maintains the laboratory values in reality. To be precise, the plant must be able to produce 1,100 Nm3 of hydrogen per hour at a normal current density.
"This is equivalent to 100 kg of pure hydrogen per hour, which sets a new standard for the industry," the company explains. But above all the quantity would allow the installation to subtract the title of the largest electrolyzer in the world from the German GrInHy2.0 project. At the beginning of the year, at the Salzgitter steelworks, the company built a high-temperature electrolysis plant capable of generating 200 Nm3 of green hydrogen per hour.
Read also Hydrogen powered boat: the Futura sailboat is born
"We trust our electrolysis technology and look forward to the test," says Richard Espeseth, interim CEO of HydrogenPro. "If the results were in line with what we saw in the small-scale tests, this would be a breakthrough for the company and a proof of concept for our technology". The experiments will have to verify that the plant produces 1,100 Nm3/h of hydrogen also using non constant sources of electricity such as photovoltaic and wind. The system, based on high pressure electrolysis, has been designed to be modular and scalable as needed, with a particularly compact design to facilitate containerized solutions.
"The results of the plant – added commercial director Erik Christian Bolstad – will help optimize our delivery to one of the world's largest green hydrogen plants".