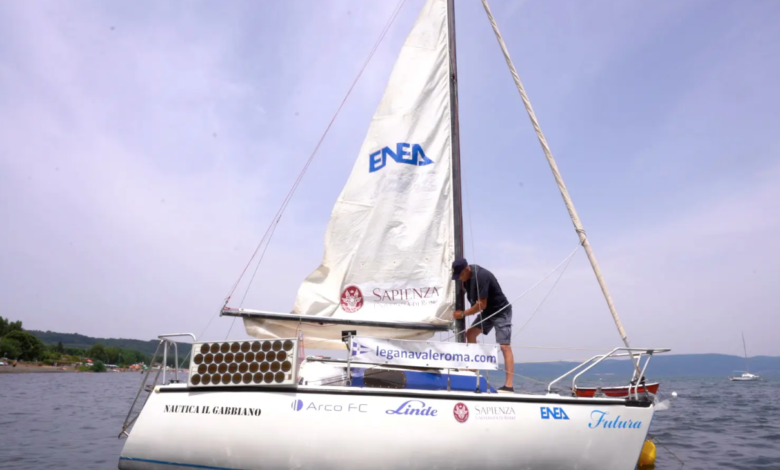 (Sustainabilityernvironment.com) – When it comes to moving on the water, sailing is the ecological means par excellence. But if the wind doesn't blow? Futura, the innovative prototype born from Italian research, has an ace up its sleeve: hydrogen. Designed and built by a multidisciplinary team of researchers ENEA in collaboration with Lega Navale Italiana and the companies Arco-FC and Linde Gas Italia, the hydrogen powered boat is a first step for the use of the carrier H2 at sea.
The project also made use of the logistical support of the Nautica "Il Gabbiano" of Vigna di Valle, on Lake Bracciano, where the special boat was put to the test. "The goal – says Giulia Monteleone, head of the ENEA Division of Production, Storage and Energy Use – is to promote the decarbonisation of the marine industry through the replacement of traditional models, fed by fossil sources with green boats. The potential of this technology is many and allows you to explore different alternatives for a green and sustainable navigation".
The next step after the hydrogen powered boat
As Viviana Cigolotti, head of the ENEA Laboratory for Energy Storage, batteries and technologies for the production and use of hydrogen, explains, the intention is to replicate the approach with other types and sizes of boats. Including the integration of micro-wind, hydro-generation systems, new storage devices and on-board electrolysers. Futura was also the subject of a thesis in Mechanical Engineering, carried out by a student of the University "Sapienza" of Rome. The work, says ENEA on its website, has deepened the aspects of the characterization of the propulsion system of the prototype in different navigation profiles, with experimental analysis of hydrogen and energy consumption, both in the laboratory and in navigation, and possible future implementations.