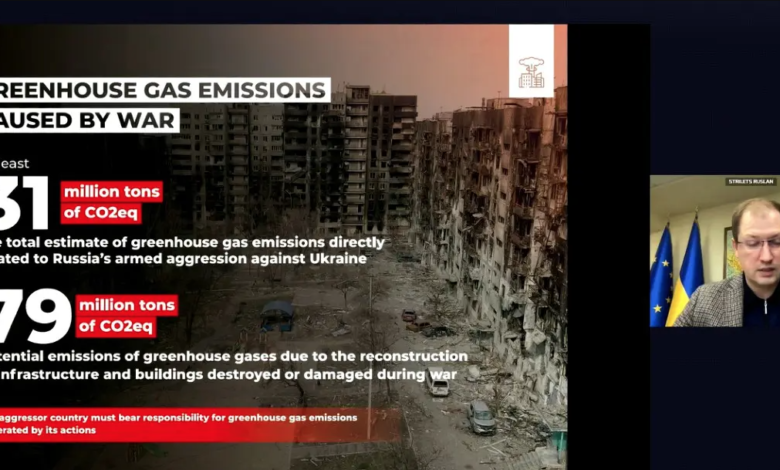 Kyiv Environment Minister estimates environmental damage from war in Ukraine
(sustainabilityenvironment.com) – At least 36 billion euros. This is the minimum amount of environmental damage caused by the war in Ukraine according to Kyiv. The count is still partial because the Russian invasion has not ended and there is still about 20% of Ukrainian protected areas under direct threat of war. Same fate for almost 3 million hectares of sites of the Emerald Network, a pan-European network of areas of special interest for conservation. This was stated yesterday by the Ukrainian Environment Minister, Ruslan Strilets, during a presentation to the European Parliament in Strasbourg.
Of these 36 billion, about 2/3 (24.6 billion) derive from air pollution while the remaining part (11.4 billion) relates to soil damage, of which almost 8 billion for water damage. Figures to which the ministry arrives through an estimate of the impact of the more than 2000 cases of environmental damage of the war in Ukraine recorded from 24 February to yesterday.
In 7 months, the Ukrainian military genius has recovered almost 225 thousand unexploded ordnance to which must be added over 2,100 bombs dropped by the Russian air force. Despite this, "200,000 km2 of land still needs to be de-mined," Strilets announced by video link to the European Parliament's Environment Committee. It is an area as large as 2/3 of Italy, which remains subject to possible pollution.
Between forest fires (1/3 suffered damage due to the conflict), and attacks on oil and fuel depots and industrial plants, emissions into the atmosphere have already exceeded 67 million tons (Mt), the minister estimates. According to the Kyiv count, the greenhouse gas emissions directly related to the Russian invasion amounted to 31 Mt of CO2 equivalent. Roughly as many as countries like Sweden or Ireland produce each year. However, if we look at the post-war period, the emissions that will result from the reconstruction of the necessary infrastructure and destroyed buildings could reach 79 Mt CO2e.