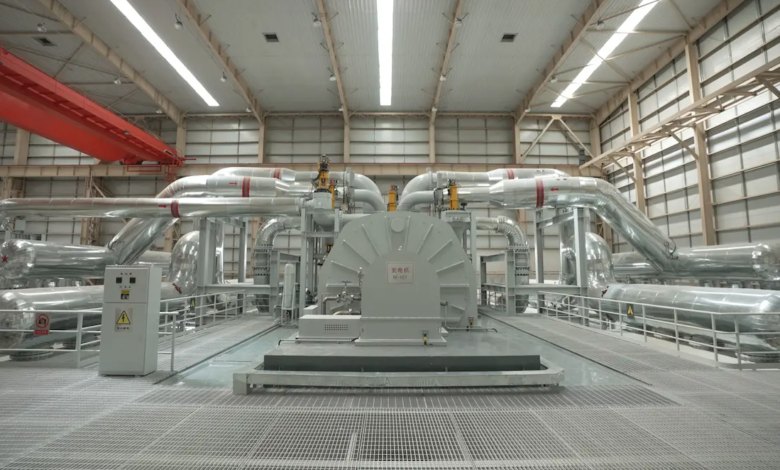 70% efficiency for the new compressed air battery of the Chinese Academy of Sciences
(sustainabilityenvironment.com) – The world's largest and most efficient compressed air battery? For now it is the one installed and activated in Zhangjiakou, a city in the province of Hebei, in the north of China. This is announced by the Chinese Academy of Sciences explaining how the plant represents the first national demonstration project of advanced CAES (Air Tablets Energy Storage, literally "compressed air energy storage").
On paper the operation of this technology is "quite" simple. In a conventional CAES system, the electricity produced at the highest supply points is used to compress the air and store it in sealed underground caves. Then it is brought back to the surface as demand increases, recovering energy in a gas turbine. The latter, however, requires mixing with fossil gas before the air is burned and expanded through the turbines.
Today there are several systems of this type with power levels ranging from 35 to over 300 MW, whose efficiency however rarely exceeds 50%. In advanced CAES, however, the dependence on hydrocarbons is reduced.
The Chinese research team has designed a 100 MW and 400 MWh compressed air battery that relies on a series of innovations to raise efficiency and do without fossil gases and caves. In detail, the system uses an artificial air storage tank that can also improve storage density, as well as recycle compression heat and adopt technologies such as supercritical heat exchange, compression and expansion at high load. According to China Energy Storage Alliance the new plant is expected to boast an efficiency of 70.4%.
The connection to the city network took place on 30 October. Since then the battery has made its capacity available to the electricity system in order to conserve the surplus of renewable energy and redistribute them during peak consumption. "The plant – explains the Academy – can generate more than 132 million kWh of electricity per year, providing electricity to 40,000-60,000 households during peak electricity consumption".