The production of wind and solar 2022 has allowed to mitigate the decline of hydroelectric and nuclear
(sustainabilityenvironment.com) – This was anticipated by the report on the state of the Energy Union, confirmed by the new study of E3G and Ember: wind and solar 2022 have given essential help to the European electricity system at a particularly challenging time. Between reduced flows of Russian gas, and hydropower at historic lows due to drought and the unavailability of part of the nuclear capacity, EU energy security has become rather shaky. But the two renewable sources managed to mitigate the heaviest effects and from March to September 2022 allowed the Union to avoid the import of 70 billion m3 of gas. Which, at the prices of the period, would have resulted in an expense of 99 billion euros.
The figures are reported in the report "More renewables, Less inflation" of E3G and Ember but need some clarification. The work of replacing fossil fuels began several years ago and certainly not this year. However, the production of wind and solar 2022 has reached new records, reaching over the past months to cover 24% of European electricity generation. In total, from March to September, wind and photovoltaic plants generated 345 TWh of electricity at EU level, 39 TWh more than in the same period of 2021 (+13% on an annual basis). This growth alone is worth saving 8 billion cubic meters of gas. Equal to 11 billion euros of avoided costs using as reference an average of the TTF Day Ahead index in the last 7 months.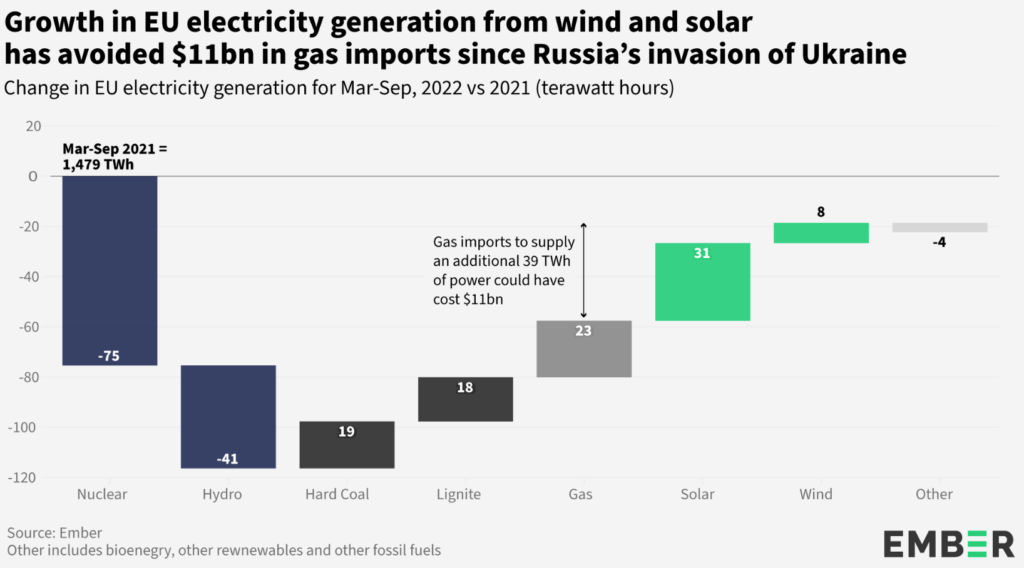 A good result to which 19 countries contributed in particular with their national records, including France (14% of wind and solar in the electricity mix), Italy (20%), Poland (17%) and Spain (35%). "Wind and photovoltaics are already helping European citizens," said Dr Chris Rosslowe, senior analyst at Ember. "But the future potential is even greater". He echoes Artur Patuleia, Senior Associate of E3G: "With tensions on LNG markets incurring high gas costs for the coming years, governments must support RePowerEU's clean energy ambition, making it a central element in the response to the price crisis".