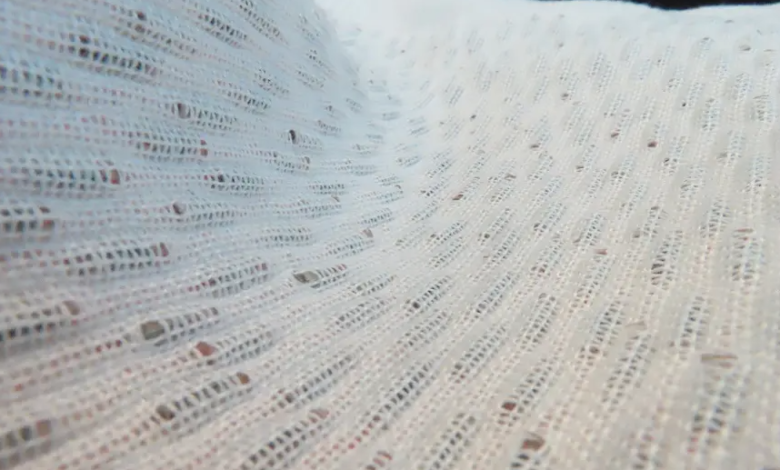 Breathable, soft and machine washable, are the electronic fabrics of the Advanced Textiles Research Group
(sustainabilityenvironment.com) – What if your shirt could power your smartwatch? What if a walk in the sun is enough to recharge your mobile phone with a simple jacket? It is the goal that for some years pursued a small niche of researchers engaged in the realization of photovoltaic clothing, garments in which solar technology is highly integrated and practically invisible to the naked eye.
From the enhanced fashion of Art by Physicist and ARMOR ASCA, to the photovoltaic textures incorporated in the Sun-Powered Textiles project, the sector continues to innovate. The latest advances come today from the Advanced Textiles Research Group at Nottingham Trent University. Here some scientists have developed a woven fabric by integrating very small solar cells. And while it's just a prototype, it was designed to be fully functional in the real world. In other words, the "electronic" fabric is comfortable, breathable and can be washed at 40 ºC without damage.
Photovoltaic clothing, where we are
It took several years of study. In fact, since 2018, researchers Achala Satharasinghe, Theodore Hughes Riley and Tilak Dias have been working on this technology with the aim of making photovoltaic clothing.
The secret of their work lies in the innovative electronic yarns created by incorporating mini silicon solar cells and thin copper wires within traditional fibers. Miniaturization is one of the fundamental elements of the project because it is able to guarantee the final product's flexibility and three-dimensional deformability. Each unit has also been encapsulated in a special resin that allows the fabric to be washed and worn like any other form of clothing.
Read also Smart textiles and photovoltaics, now you can wash and recycle
By 2020, the team had incorporated 200 cells just 1.5 mm wide and 3mm long, developing up to 80 milliwatts of power. Today the project has taken a step forward: 1,200 cells 5 mm long and 1.5 mm wide capable of generating a peak power of 400 milliwatts. "This prototype offers an exciting glimpse into the future potential for electronic textiles," said Dr Hughes-Riley. "The material we have developed, for all intents and purposes, looks and behaves like a normal fabric, since it can be crumpled and machine washed. But hidden beneath the surface is a network of over a thousand tiny photovoltaic cells that can use the sun's energy to charge personal devices".