BNEF's analysis of the 2022 electric vehicle market
(sustainabilityenvironment.com) – Who is the number one producer of electric vehicle of 2022? To answer the question now is not easy but BloombergNEF (BNEF) tries anyway by pitting the first data to final balance. According to the latest estimates of analysts this year, sales of electric vehicles should reach 10.3 million units worldwide, with China and Europe continuing to dominate the market.
But to deepen the data a distinction is first necessary. The generic label of electric vehicles often includes not only "full-electric" battery vehicles, or BEV (battery electric vehicles), but also plug-in hybrid vehicles (PHEV). This is a substantial difference since, depending on what you consider under the electric vehicles label, the market data also changes. To be precise, the Chinese manufacturer BYD Auto won first place in the list of electric car sales 2022 but only considering both technologies, hybrid and battery: in a year one million of its vehicles have reached the road. But if you eliminate the PHEV from the calculation, the American Tesla remains the undisputed queen.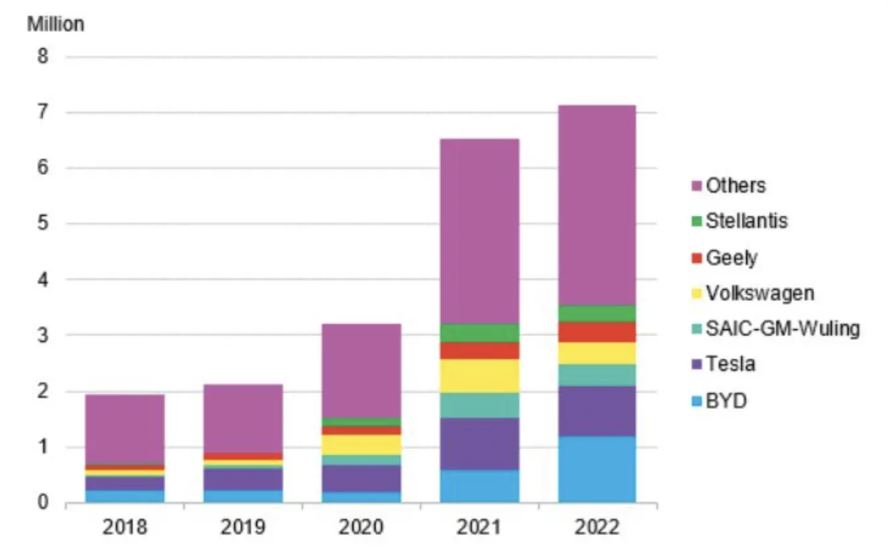 What is certain is that the Chinese car manufacturer has done great. "BYD shows the advantages of focusing on only one type of transmission: the electric", said Corey Cantor, leading industry analyst for BloombergNEF. The company stopped manufacturing fossil fuel vehicles in March this year and although sales outside the country are still very few, the situation may soon accelerate. BYD has expanded its sales network in several Latin American countries and has recently signed a land purchase agreement to build a production plant.
Read also Speed record for solar electric car Sunswift 7
Overall, the industry shows good dynamism, with new and small players able to keep up with large groups. For example, the $5,000 Hongguang Mini BEV catapulted SAIC-GM-Wuling to the top of BNEF's 2022 sales list. According to analysts, minicars could be the next big innovation in the electricity market in urban environments. "We expect the ranking of the best sellers to change as competition intensifies. Surprises cannot be ruled out," Cantor stressed.