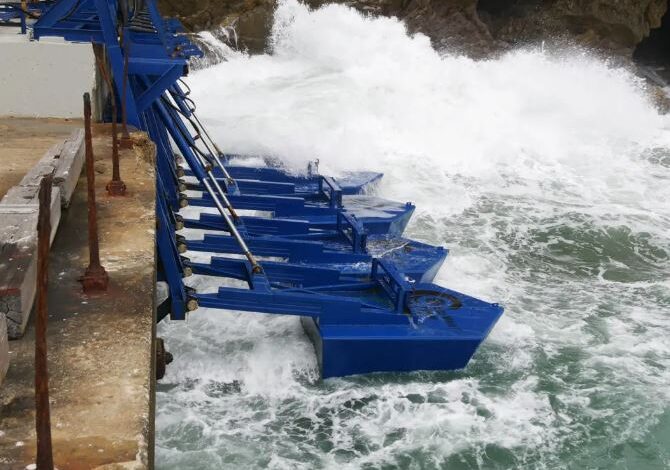 Eco Wave Power projects in Europe have a production potential of 404.7 MW
(sustainabilityenvironment.com) – With its 95,000 miles of coastline, the United States is certainly one of the most favorable territories to capture wave energy from ocean. The US Energy Information Administration speaks of a production close to 3,500 TW/h per year that can be obtained from wave motion, about 64% of the energy generated on an industrial scale by the entire country in 2021.
That's why the Swedish and Israeli company Eco Wave Power has decided to move one of its main conversion units, from Gibraltar to the port of Los Angeles. The new AltaSea headquarters is in fact the first in the United States for the company currently engaged in the construction of the world's largest wave power plant in Turkey.
With the recent promulgation of the IRA – Inflation Reduction Act – the US has become an extremely attractive market for renewable energy technologies. Biden's plan includes an investment of 369 billion dollars in programs related to the production of renewable energy and environmental protection.
The conversion unit of Eco Wave Power at AltaSea in Los Angeles will be a pilot project to test and implement the technology to produce wave energy even outside Europe, a market where the company also holds concession agreements for commercial installations in Europe and has a total projects pipeline of 404.7MW.
Read also Ocean Energy: flexWEC generators create snakes and elastic walls
"This is just the start in the United States. Moving the station from Gibraltar to Los Angeles in just a few months shows yet another strength of our technology: we are one of the only portable renewable energy technologies that can be easily transported, from country to country, to fit the energy needs of any country", said Inna Braverman, Founder and CEO of Eco Wave Power.
How to get Wave energy
The technology exploited by the Swedish Israeli company allows to produce of electricity from wave motion through a series of floats anchored at the bottom of the sea or fixed positions such as piers or breakwaters. The movement of the floats compresses and decompresses the hydraulic pistons that, generating pressure, drive the hydraulic motor that then transfers the energy to the accumulators located on land.
Production starts with a minimum height of 0.5 meters, while in case of storms with excessively high waves, the system independently lifts the floats above the water level.