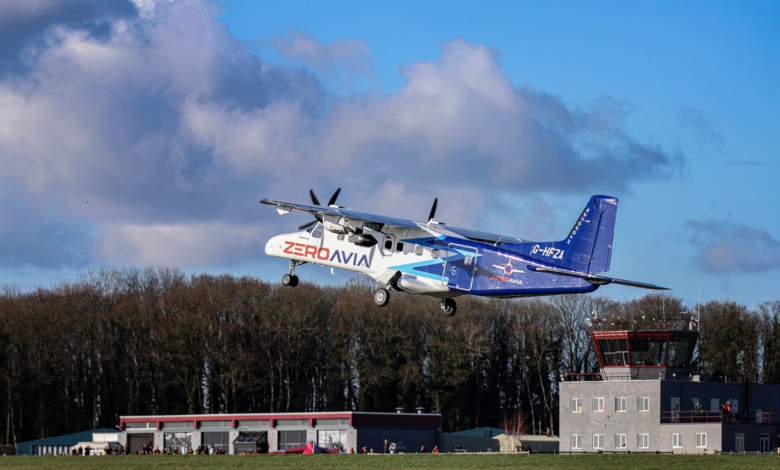 Celebrated the inaugural flight of the largest hydrogen electric Aircraft
(sustainabilityenvironment.com) – It took 10 minutes in the air for the twin-engine Dornier 228 to get a place in the history of zero-emission flights. The aircraft was adapted by ZeroAvia as part of the HyFleyer II project to accommodate an electric fuel cell engine. And when it took off from Cotswold Airport in the United Kingdom yesterday, thanks to its 19 seats it became in effect the largest "operational" hydrogen electric Aircraft in the world. "This is an important moment, not only for ZeroAvia, but for the entire aviation industry as a whole, as it shows that true zero-emission commercial flight is only a few years away," said Val Miftakhov, Founder and CEO of the company.
The Dornier 228 is a twin-engined high capacity regional line. For the ZeroAvia project he incorporated the electric motor on the left wing, leaving on the right the tradition turboprop. In this test configuration, the electric-hydrogen powertrain comprises two fuel cell stacks, with lithium-ion battery packs providing power support during takeoff and increasing safety. Hydrogen tanks and fuel cells were housed inside the cabin but in a commercial configuration, an external storage would be used to restore the seats.
"The first flight of our 19-seat aircraft – continued Miftakhov – shows how scalable our technology is and highlights the rapid progress of zero-emission propulsion. This is just the beginning: we are building the future of sustainable aviation". This result follows the company's previous cut milestones, starting with the 2019 electric prototype flights, and the world's first 6-seat hydrogen-electric flight on a commercial scale in September 2020.