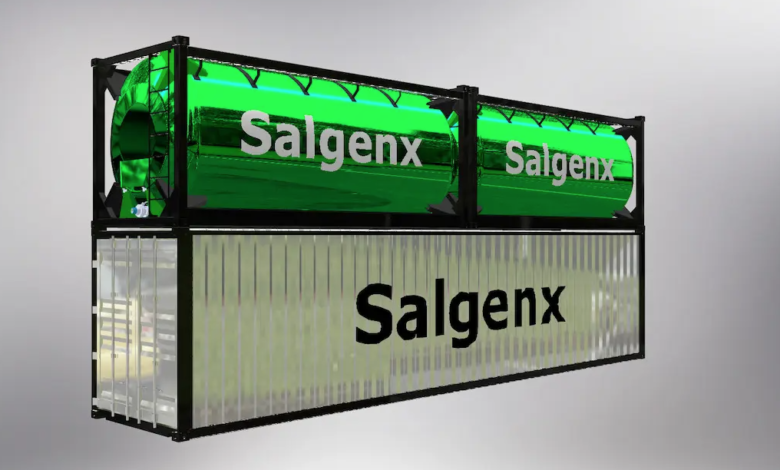 3000 kWh salt water flow battery
(sustainabilityenvironment.com) – It is designed for fixed energy storage on a large scale and does not need lithium, vanadium or bromine. It is Salgenx S3000, the salt water flow battery created by Infinity Turbine LLC to offer an affordable and efficient storage solution.
Redox flow batteries represent a promising storage technology for large-scale energy storage. However, some obstacles still limit its wide implementation, such as the high cost of vanadium and the poor performance of ion-selective membranes. That is why the bought for years is studying membrane-free alternatives based on immiscible electrolytes that elude classical materials. These include the new saltwater flow battery created by the Salgenx division of Infinity Turbine LLC.
The underlying concept is the same as traditional flow batteries: two separate electrolyte tanks that come into contact with the electrodes to generate electricity. In the Salgenex flow battery however electrolytes – sodium chloride containing water (NaCl) and a proprietary organic electrolyte – meet in the central stack by sliding over the electrodes, without separation. Salgenx S3000 – this is the name of the system – offers a storage capacity of 3,000 kWh at a production cost of $ 100 kWh. "With a lifespan of about 25 years along with active materials costing around $5/kWh, it is a viable competitor for lithium, vanadium or bromine-based batteries," the company explains in a press release.
Read also The first solid state battery for residential storage
The battery offers both electrical and thermal storage capacity. The salt water tank can, in fact, be used simultaneously to accumulate heat, in combination with a heat pump that uses CO2 as a refrigerant.
"Most of the system can be purchased and assembled on site, allowing local communities to build their own storage systems," Slagenex continues. "A further advantage is that salt water does not have the same flammability problems as lithium. It is non-toxic and is available everywhere. You can find it in oil and gas extraction plants, geothermal brines, cooling ponds in power plants, effluents from desalination systems and even in your home air conditioning system".