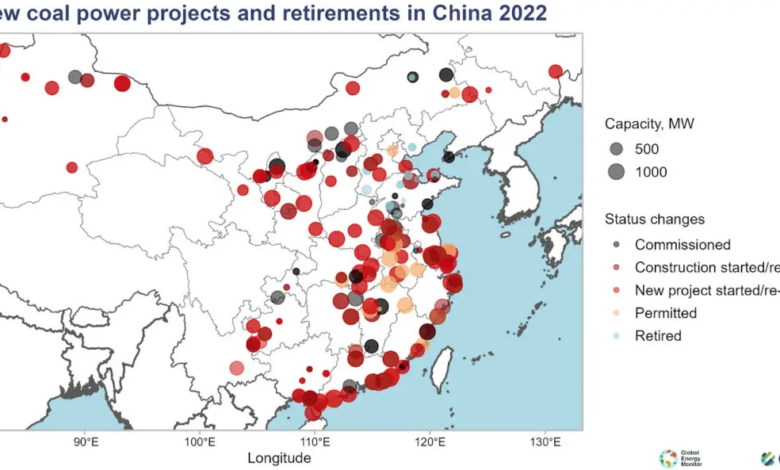 CREA and GEM report on coal power plants in China
(sustainabilityenvironment.com) – Two new coal power plants in China are authorized every week. In all, plants for 106 new GW have completed the permitting phase. The highest volume since 2015. Four times the 23 GW of 2021. It is also a record for the plants whose work has begun. In many cases, there has been an accelerated authorization process. Result: more than 50 new GWs in the yard, 50% more than those under construction in 2021. These are the numbers of coal in China in 2022.
The numbers of new capacity connected to the network remain stable. They were 26.2 GW in 2021, they rose just to 26.8 GW in 2022. This is the lowest figure since 2003 for the last two years, reflecting the decline in authorizations between 2017 and 2020. But given the surge in permits granted last year, there will soon be a boom.
Underlining these numbers is a report by the Centre for Research on Energy and Clean Air (CREA) and Global Energy Monitor (GEM) published today. "At the beginning of 2022, the Chinese energy regulator said that no new coal power plants would be allowed just because of increased energy production," note the report's authors. "However, the provinces that have started the largest number of new coal-fired power projects hardly meet this requirement, as they are among those that meet most of the increase in their energy needs through coal".
Why the boom of coal-fired power plants in China?
What caused this boom in permits for new coal power plants in China? It is a response to the blackouts due to the heat waves of the last summer, the report suggests. In 2021-22 the country recorded peaks in an electrical load of even 230 GW above the norm, a demand inflated by the use of air conditioners. But choosing coal-fired power plants is a "costly and not optimal" solution, say CREA and GEM.
Read also China had to stop coal-fired power plants abroad. This year it built 14
"The provinces that authorize a large number of new coal-fired power plants are trying to justify the projects as "supporting" electricity capacity to ensure the stability of the grid and the integration of renewable energies," the authors note. "This justification, however, does not hold up, as the plants are intended to operate with a base load and these specific provinces are lagging behind in producing clean energy to meet the growth in demand".