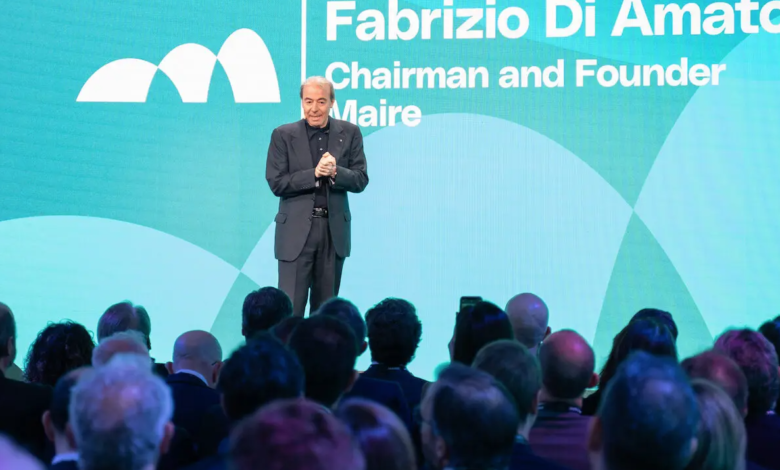 Maire Tecnimont's Strategic Plan 2023-203 presented
(sustainabilityenvironment.com) – There is the energy transition at the heart of the Strategic Plan 2023-2032 presented this morning by Maire Tecnimont, an Italian multinational industrial player active in the transformation of natural resources into innovative products. The Group, which has for some time already made a clear commitment to play the role of enabler of the transition, today relaunches with a new industrial strategy and new investments. Unbox the Future, which is the name of the Plan, is accompanied by a renewed reporting model and a rebranding project, aimed at strengthening identity and entrepreneurial vision. With the main objective of accompanying and anticipating the challenges of the future. "We aim to achieve carbon neutrality by 2030," stressed president and founder Fabrizio Di Amato, during the presentation.
Four key clusters for energy transition
In detail, the Group focused on four clusters to focus on: nitrogen-based fertilizers, hydrogen and circular carbon, fuels and chemicals, polymers. These are areas already present in their core business through a wide range of technological, engineering and digital solutions aimed at transforming natural resources into innovative products for everyday life. But Maire Tecnimont wants to go beyond the traditional EPC value chain thanks to an integrated approach capable of responding to the increasingly complex needs of the market. An approach based on 5 key pillars: in addition to the broad portfolio of solutions, also high technological know-how, the ability to manage broader ecosystems, greater enabling innovation and flawless execution in complex environments.
Reorganization of the Business Units
The group also adopted a new reporting structure, which follows the internal reorganization approved in 2022. Two business units: Sustainable Technology Solutions (STS), where all NextChem's sustainable technology solutions and high value-added services for the energy transition are concentrated; Integrated E&C Solutions (IE&CS) in which the executive competences from general contractors will be concentrated.
Read also Energy transition urgently needs a skilled workforce
The first "given the technological nature, will express small volumes but with a significantly high margin, accompanied also by a low level of risk". For the second instead "high volumes and a margin are expected in line with the average expressed by EPC contracts"
Maire Tecnimont: Financial targets for 2032
In the 2032 objectives, Maire Tecnimont expects revenues to double with an average annual growth of 8-10% aiming at the end of the period over 7 billion revenues. And estimates for EBITDA an increase of 3-4 times compared to 2022, with a margin of 8-9%. Net liquidity will grow tenfold from 94 million in December 2022 against investments of about 1 billion euros. The resources will be dedicated to the enhancement of the technology portfolio, to support project development initiatives for projects generated by sustainable technological solutions and to the payment of dividends (payout expected to grow by 45% today).