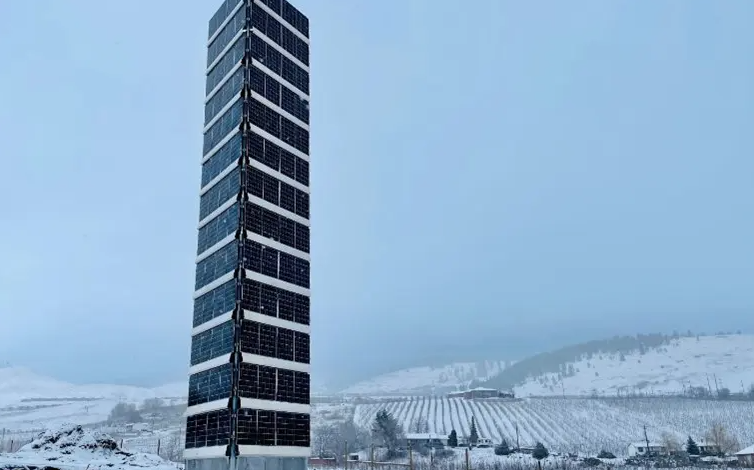 A photovoltaic tower to use 90% of soil in hand
(sustainabilityenvironment.com) – The new trend of vertical solar panels has now an evolution that makes the most of the space in height instead of length. It is the photovoltaic tower of Three Sixty Solar, a Canadian company based in Vancouver. The company manufactures stacked systems from 12 to 36 meters high, designed to exploit the energy of the sun where the available space is little. With a peak power of up to 250 kW, the photovoltaic tower promises to reduce development costs without damaging the environment or surrounding habitats.
Each unit has three sides completely covered by vertical solar panels, so the final power depends essentially on the orientation of the structure that can never guarantee the maximum possible yield. On the other hand, the chimney effect inside the towers helps dissipate the heat by increasing the yield.
These days the company has published a White Paper containing the results of 16 months of testing. Sixteen months since the photovoltaic tower demonstration built in Kelowna, British Columbia has proven to withstand particularly aggressive weather conditions. From a fierce storm with gusts of wind up to 135 km/h to intense rain, hail and snow.
Read also Perovskite photovoltaics: 250% increased efficiency thanks to metal substrate
Not only. In January 2023 tests were conducted on the effect of dirt on the panels, discovering that after a year the modules had not undergone any change in voltage or current. And the vertical placement of the panels allowed all the snow to come off the tower without human intervention.
"These highlights confirm something I have believed in for a long time," explains Brian Roth, CEO of Three Sixty Solar. "The design of our tower has more advantages than just the potential to use up to 90% less land. Reducing maintenance activities reduces operating costs and improves the economy of a project. I am very happy with how the tower has resisted the Canadian environment".