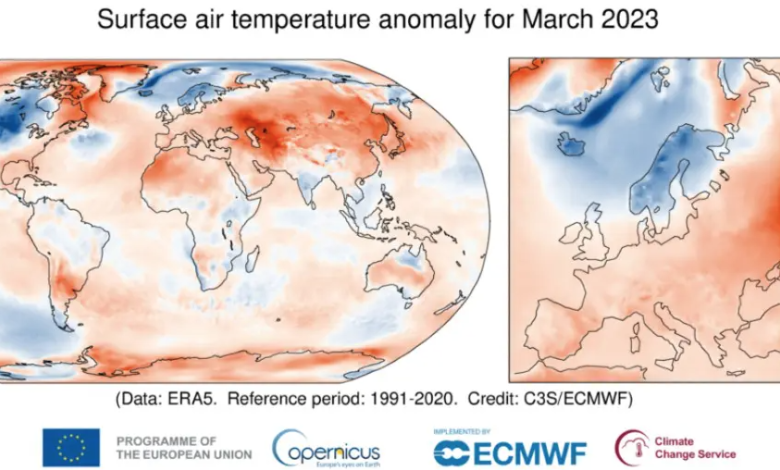 Global warming data in Copernicus monthly monitoring
(sustainabilityenvironment.com) – The month of March was the second hottest ever at a global level, balancing the accounts with the figure of 2019. On average, last month global warming reached +0.51°C compared to the reference period 1991-2020. The thermal anomaly was most pronounced only in 2016, when the global thermometer in March scored +0.62°C. At European level, however, the anomaly has reached +0.89°C.
A look at global warming in March '23
This is reported by the monthly monitoring of Copernicus, the European satellite program. Last month, temperatures were much higher than average in North Africa, southwestern Russia, and much of Asia. Here last month global warming awarded many new temperature records. In addition, markedly positive thermal anomalies were also recorded on the north-eastern sector of North America, Argentina and other South American countries, as well as on much of Australia and the coast of Antarctica.
The only regions where temperatures have been much lower than average are Central and Western North America and the northernmost sector of the Scandinavian Peninsula. In Europe, global warming has been felt especially in the southern and central parts of the continent.
Soil moisture and ice cover
Soil moisture monitoring by Copernicus reveals a Europe split in half. In March 2023, it was wetter than average along a strip going west to north, from central-northern France and from Great Britain to the Baltic republics and Finland. On the contrary, the regions that had drier climatic conditions than average last month were the Iberian Peninsula, where the first major fires of the season occurred, the Alps, much of Central Europe and the Eastern Balkans.
read also Global warming, 2023 will be hotter than 2022
Finally, the extent of Antarctic sea ice was the second-lowest in March in the history of satellite data, about 28% below average, after the all-time low recorded in February. The extent of Arctic sea ice, on the other hand, was 4% below average, ranking fourth among the lowest extensions in March, but not far from the three lowest values.