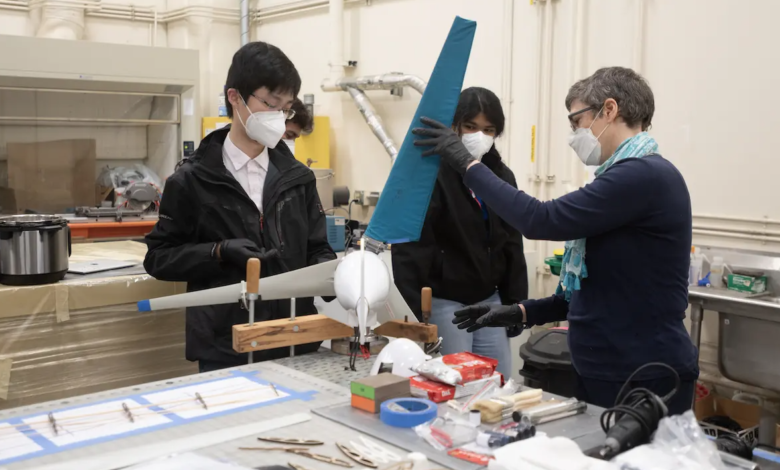 Compostable wind turbines to close the circle
(sustainabilityenvironment.com) – Wind turbines are the most difficult components to recycle. What if the secret to closing the circle is not recycling technology but the materials used? Ecodesign is slowly making its way into the wind industry with the goal of making blades that are both durable and easy to dismantle. But a group of researchers at the University of California at Davis wanted to go further by designing the first compostable wind turbines.
The recipe was developed by the engineer and polymer composite expert Valeria La Saponara and involves the use of woven bamboo, mycelium and biomass of agricultural waste, instead of fiberglass and balsa wood. As Sharon Campbell Knox explains on the University site, the researcher began working with mycelium – the vegetative apparatus of fungi – about 4 years ago looking for an alternative material to plastic of fossil origin.
read also A new coalition of companies to recycling wind turbines
But to make the wind turbines compostable has gathered an interdisciplinary team that studied simultaneously several aspects, such as the optimal interweaving of bamboo or the best supports for the growth of fungal biomass. The first prototype did not take long to arrive. The group built a first compostable wind turbine blade for their experiments. "We want to perform structural tests to find out how fast it can rotate, how much power it can generate," explained La Saponara.
The mycelium-bamboo composite will replace the blades of a 1 kW commercial turbine installed near the STEEL Lab, part of the Western Cooling Efficiency Center. The tests will test the resistance of the small wind generator with winds at over 136 km per hour. "Once we have the Proof of concept for 1 kilowatt, which represents a reasonable amount of power, we can start working with companies for marketing," the researcher revealed.