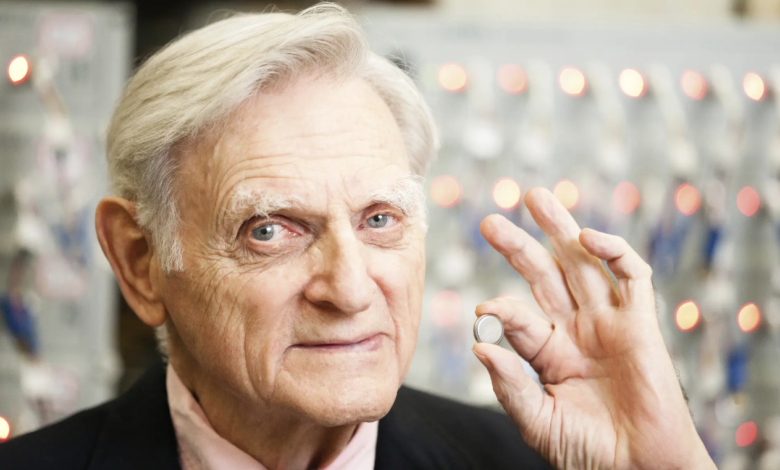 John Goodenough won the Nobel Prize in Chemistry in 2019 for lithium battery
His contributions changed society and influenced recent decades of development. However, few people have ever heard of John Goodenough, the 100-year-old inventor of the lithium battery, who passed away yesterday. Goodenough, who won the 2019 Nobel Prize in Chemistry, created innovations that changed the face of technology. Everything that comes to mind is powered by a rechargeable battery, including electric vehicles, pacemakers, laptops, and mobile phones. Goodenough, who was born in Jena, Germany, in 1922, was raised in the United States and graduated from the University of Chicago with a doctorate in chemistry. Although he started his career at the Massachusetts Institute of Technology, he made the majority of his significant discoveries in England throughout the 1970s and 1980s.
From 1976 to 1986 he was the head of the inorganic chemistry laboratory at Oxford University. In 1979, Goodenough was able to develop the earlier work of Michael Stanley Whittingham, using a cobalt lithium oxide as a cathode. So he discovered that he could duplicate the capacity of lithium-ion batteries.
With Whittingham and the Japanese Akira Yoshino, four years ago John Goodenough shared the Nobel Prize, becoming the oldest person to receive this award. He was 97 years old, still teaching and researching battery materials and solid state engineering.
A revolutionary work
It took more than ten years to develop lithium batteries, the first completely portable and rechargeable batteries. Unique findings made by Goodenough, Whittingham, and Yoshino formed the basis for the creation of a commercial rechargeable battery. Whittingham's research from the 1970s used the lightest metal's propensity to release its electrons to develop a battery that could produce little more than two volts. Using cobalt oxide, Goodenough quadrupled battery capacity to four volts in 1980. Through the use of safer lithium ions, Yoshino's work in the 1980s eliminated pure, overly volatile lithium. In 1991, the first commercial batteries that were lightweight, secure, long-lasting, and rechargeable hit the market.
A true pioneer of contemporary technology, John Goodenough died on Sunday at a senior home in Austin. The announcement was made yesterday by the University of Texas, where he had been working for almost forty years.