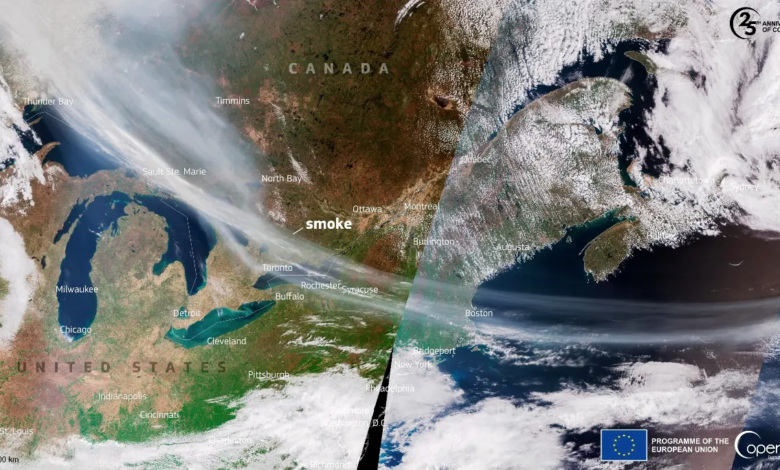 Smoke from wildfires in Canada reached Europe
(sustainabilityenvironment.com) – In just 6 months, wildfire in Canada have already released more emissions than in any full year. In the atmosphere, only between January and June, about 160 million tons of CO2 equivalent (MtCO2eq) are finished. Italy, in one year, emits about 400 MtCO2eq.
The worst wildfire season in Canada for 21 years
"Emissions from these fires are now the largest annual emissions for Canada in the 21 years of our dataset," reported the European satellite monitoring service Copernicus. From which comes another announcement: the wildfire in Canada have generated a blanket of smoke capable of reaching Europe these days.
What are the consequences? "Long-range smoke transports, like this episode, tend to occur at higher altitudes, where the atmospheric life of air pollutants is longer, which means that they manifest themselves more like nebulous skies with red/orange sunsets", specification Copernicus.
While in the immediate, at lower altitudes, there should be no repercussions: the fine dust values are normal and should not suffer the impact of Canadian fire fumes. So no scenario awaits us like the one on the east coast of the United States in early June, when the smoke from the fires forced tens of millions of people to stay in the house and made the views of New York ghostly, Philadelphia and other great American cities.
The fires, meanwhile, continue to rage. As of June 26,492 were still active in Canada, more than half of them (257) considered out of control. Increasing the rate of fire this season is a combination of higher temperatures and lower ground humidity, both of which depend at least in part on climate change.
"Our monitoring of the extent and persistence of fire emissions in Canada since early May has shown how unusual it has been compared to the two decades of our dataset," comments Mark Parrington of Copernicus.